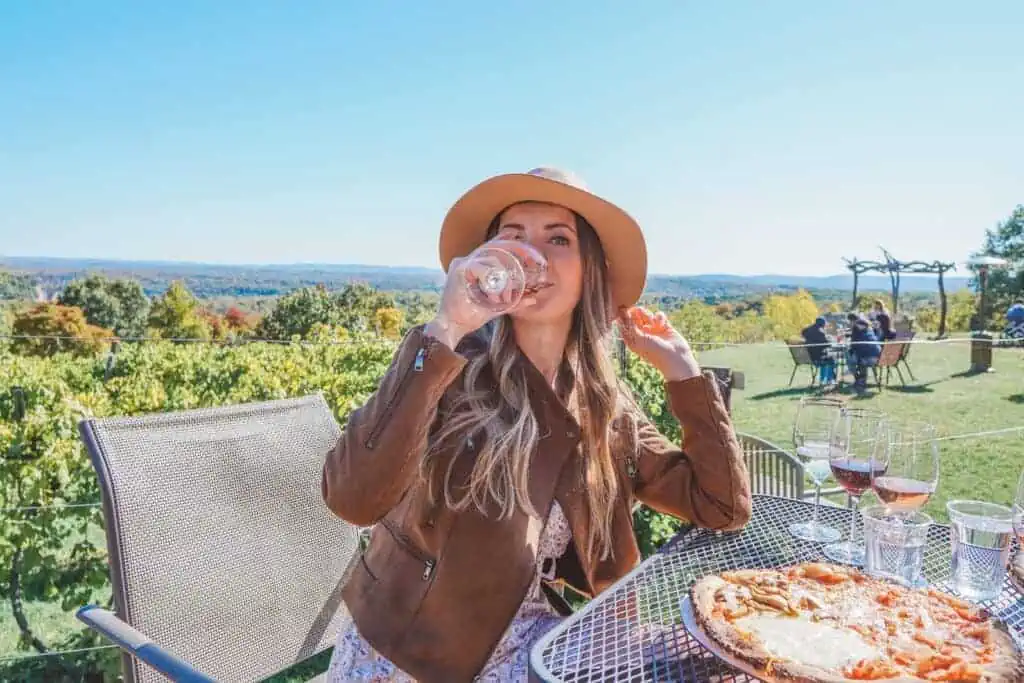 For those of us who cannot travel full time, well-organized day trips can make a big difference. Who does not love a day filled with adventures, good food, family, and friends? These types of days are the ones I am looking forward to during my working days. While there are countless things you can do to plan a productive day trip, putting the trip together could be time-consuming. In this post, you can find everything you need to know to plan a perfect day trip from New York City to Benmarl Winery and Vineyard and enjoy nearby attractions in the Hudson Valley area.
Visiting Benmarl Winery and Vineyard
When it comes to finding a good winery and a vineyard to hang out near New York, you do not need to look too far. Benmarl Winery, located in Hudson Valley, is one of the most popular wineries around. It is one of America's Oldest Vineyard. Through its deep history, quality, and commitment, Benmarl Winery has earned its reputation. Here are some highlights to know before you visit.
Location
Benmarl Winery is located about 80 miles away from New York City. If you do not drive, you may get there via Metro-North from the Grand Central Station. However, we do prefer driving because it gives added flexibility and allows us to make the most out of a productive day trip. It. is located in Marlboro, NY, and is spread on a 37 acres of land. The vineyard is overlooking the beautiful Hudson Valley.
Wine Tasting and Food
Food is served a la carte here. No matter what you decide to order, keep in mind that they are very famous for wood-fired pizza that is made on-premises and is delicious! Another great option for you is to get the cheeseboard that pairs incredibly well with wines on the menu. I cannot speak much about other food options but these two are a must if you are looking for something good to pair with your wine. In regards to wine tasting, you can get 4 glasses of wine to taste for $15. There is a lot of variety to choose from. Later you may also purchase the bottles.
When to Visit
Benmarl Winery is open year-round. During the warmer months, the guests have a choice to be seated on the outside patio overlooking the greenery of the Hudson Valley. During fall the foliage colors make the view even prettier. We have been here during both warm and cold days. The views outside/during warmer days are certainly the best.
While the outdoor setting is very lovely, visiting this winery during winter days can also be charming and cozy. We have had an opportunity to spend a day here during a winter storm and the experience was absolutely Magical. Snow falling outdoors and a cold breeze paired with delicious wines and warm customer service inside.
Benmarl Winery is Kid and Pet Friendly
Benmarl winery is kid and pet-friendly! I am not sure how many parents are reading this post but if you are one of them, then this may excite you. If you are parents like us who do not have many babysitters lined up during the weekdays, you may certainly take them to this winery with you. I admire the flexibility that this place offers to busy parents who are looking to unwind.
Valentines Day Special at Benmarl Winery
A winter trip to Benmarl Winery can be as charming as during the summer days. If you happen to visit this place during a snow day, you will absolutely love the winter ambiance. In addition to regular winery visits, there is an added benefit to visiting this place in winter. Benmarl Winery offers an annual Valentine's Day wine and cheese pairing in February. This could be a wonderful couples trip to enjoy the romantic setting in one of the most charming wineries close to New York City.
If you sign up for Valentine's day special, expect a board of assorted cheeses, fruits, and jams, and chocolates to be paired with 4 different types of wines. We loved trying out different flavors and tasting a variety of assortments. If you are looking for a small Valentine's day date to pair with other activities, visiting Benmal Winery and Vineyards makes a perfect choice.
Attractions nearby Benmarl Winery
To make the day more adventurous, there are more things you can do nearby. You may Explore outdoor art at Storm King Art Center or take a long walk on the Walkway Over The Hudson.
Storm King Art Center
Storm King Art Center is an open-air museum located in Hudson Valley, NY and is roughly 30 minutes drive away from Benmarl Winery. In this museum, you will find some of the largest outdoor sculptures in the United States. The museum is stretched over 500 acres of land. It is a great day activity for couples and families with kids. There is just so much space for everyone and so much to explore. No matter how many times you visit the place there is always the change of exhibitions and programming so expect a lot of new art works throught the season.
We have visited Storm King Art Center a few times. The best thing is to hike the trails and connect with nature while also exploring modern art. Besides outdoor museums, this place offers various educational digital content on its website. There you can find some creative activities, online exhibitions, and more. Consider exploring Storm King before or after your wine tasting at the Benmarl Winery.
Walkway Over The Hudson
Before you head back, and if you have more energy for the day, head over to the Walkway Over the Hudson. Since this attraction is only 15 minutes away from Benmarl Winery and Vineyards, it makes a very convenient spot to stop by before or after the wine tasting. Take a stroll on the bridge and enjoy Hudson river views. According to walkway.org, the walkway over the Hudson is the longest elevated pedestrian bridge in the world. It is 212 feet tall and 1.28 miles long.
If you are up for the more activities in the Area, the author Polly Sparling shares 25 activities to do in the Hudson Valley.
Do you like what you read? leave a comment below and share this day activity with your friends.