5 Best Family Resorts in Turks and Caicos: (Grace Bay Beach)
Are you looking for the best family resorts in Turks and Caicos? I am here to help! I have compiled 5 best family friendly resorts in this post that are located on World's one of the most beautiful beaches, Grace Bay Beach
Turks and Caicos is a dream destination for family vacations, with its pristine beaches, crystal-clear waters, and an incredible array of activities for all ages. But there are so many resorts to choose from while considering factors such as all-inclusive options, amenities for children, location, and the availability of childcare services and kids clubs. The list can overwhelm you, but this post will make it easy to decide on one of the best resorts for your family.
How did I come up with the list? We planned our Family Turks and Caicos trip one year ago, and before our visit, I researched and compared more than ten resorts in the Grace Bay area; that is how I have compiled the list of best family resorts to stay in Turks and Caicos.
Whether you are looking for an all-inclusive , a luxury stay, a little more laid back, or more boutique style, I have got you covered.
This post contains affiliate links to tours, hotels, Amazon associates, and products. These help me earn a small commission to keep my blog free at no additional charge to you.
Quick Guide: Our Top 3 Best Family Resorts in Turks and Caicos
Are you in rush to get the best top choices? I have my top 3 options ready for you.
Beaches Turks & Caicos : Best All-Inclusive Kid-Friendly resort focused on plenty kid-friendly amenities, and activities. If you want high energy place this is the one to go with.
Palms Turks & Caicos : Best for all inclusive luxury stay but more laid back and quiet than Beaches resort. This is my best choice for adults to relax but kids to also have fun at the kid's club.
Windsong on The Reef : Unique, small and quiet resort steps away from beach with best snorkeling and water activities for families.
If you have a minute, I highly recommend reading through all five hotel highlights to make sure they are all best aligned with your needs and goals to make a confident decision.
List of 5 Best Family Resorts in Turks and Caicos
It was not easy to narrow down from all the great options that Turks & Caicos offers for families but I decided to choose only five resorts that stands out to me with exceptional guest feedbacks, locations, and family friendly services and activities.
Rating: 7.7 / 10
Location: Grace Bay Beach
Highlights: Home to only water Park on the island, located on the Grace Bay Beach, Kid's Club, five themed villages, and family suites, 21 restaurants.
You may have heard about Beaches Resort. It is one of the largest and most well-known Kid-friendly resorts in entire Turks and Caicos. You can relax knowing everything is handled when you book your stay here.
The resort is divided into five themed villages: the Italian Village, French Village, Caribbean Village, Key West Village, and Seaside Village. Each village has its unique atmosphere, decor, and amenities.
The resort offers Family suites and villas with everything you will need for a comfortable stay.
Dining options include 21 restaurants offering a range of cuisines, from casual to fine dining.
Beaches Turks and Caicos is certainly the kids favorite Resort. It offers a kids club called Camp Sesame, which is staffed with certified nannies and features visits from Sesame Street characters like Abby Cadabby.
Additionally, the resort offers a variety of activities for kids ages 8 to 10, including scavenger hunts, beach soccer, capture the flag, and more. So when staying here, parents, be assured your kids will be well taken care of while you enjoy a little time alone.
All the resort offers are great, but remember everything above comes with a high price tag. If you do not mind a splurge, go for it
""If you can pay for it, don't hesitate. It is amazing, the hotel makes a beautiful beach a paradise." -Veronica (Argentina)
CHECK PRICE AND AVAILABILITY ON BOOKING.COM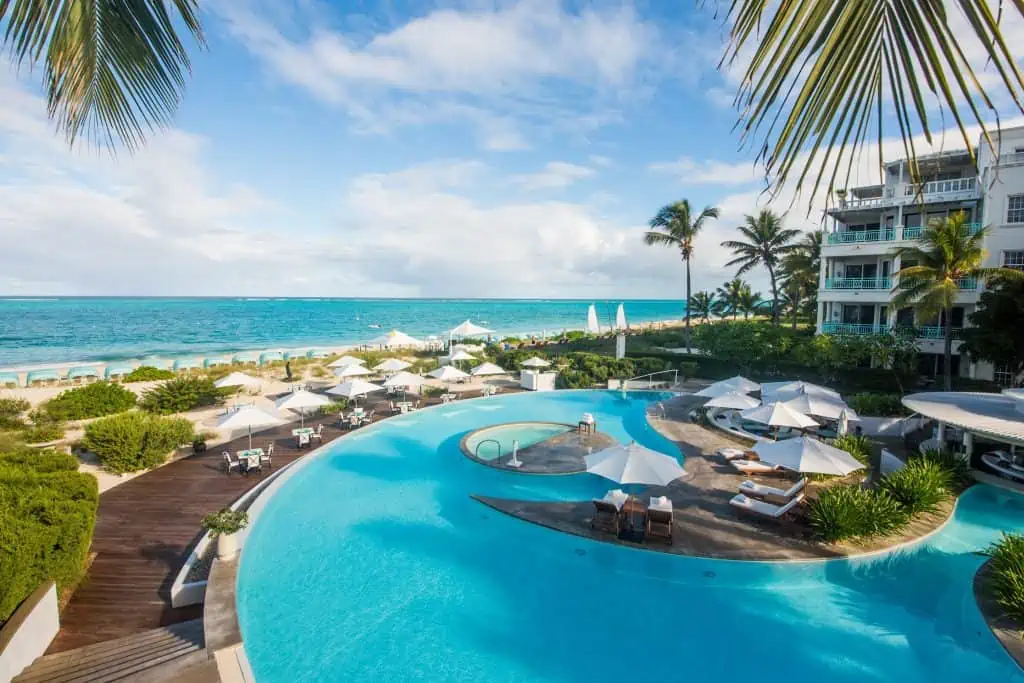 Rating 8.8/10
Location: Grace Bay Beach
Highlights: All Inclusive, luxury amenities, kids club, family suits, perfect location on Grace Bay Beach.
Palms Turks & Caicos is a fantastic all-inclusive family resort in the mesmerizing Grace Bay area. Unlike beaches, expect a little more laid-back atmosphere here which most of us can appreciate.
This resort boasts a variety of accommodation options within its 72 suits for families with different preferences and budgets, offering up to 3 bedrooms of options.
Be assured that your kids will have a fantastic time as the resort offers a kids club for ages 4-12 called "Conch Kritters." The club offers both indoor and beach activities. A great perk is offered to families. Do not miss out on this opportunity and use some well-deserved time to visit a spa or quietly sunbathe at the beach.
The resort is also located in the heart of the pristine Grace Bay Beach! Note that Palms Turks has a sister property called the Shore Club which is little more intimate than Palms. Also the property is located on Long Bay Beach instead of Grace Bay.
"Let's start by saying this is our first visit to Turks. The check in was excellent. The room was very nice , super clean and plenty of space. AC was ice cold if you want that. The swim up bar at the pool is great for food and drinks and the staff is so friendly. The grounds are very 5 Star and excellent kept. We travel at least 10 plus times a year and this place is Awesome. We did visit all the other places just to check them out but this place beats them hands down." – Michael
CHECK PRICE AND AVAILABILITY ON BOOKING.COM
Rating: 9.8/10
Location: Grace Bay Beach
Resort Type: Upscale Spa-resort where kids are welcome
Highlights: Complimentary Breakfast and Parking, heated saltwater pool, multiple restaurants.
If you're looking for a relaxing but adventurous adult getaway where kids are welcome, Seven Stars Resort & Spa is an excellent choice. This resort offers a fantastic balance between adult and kid activities.
Located right on the famous Grace Bay beach, you can indulge in various beach activities with your family, creating unforgettable memories.
The resort offers a complimentary breakfast, pool, and parking.
The hotel has special family-friendly two-bedroom suits to make a family stay comfortable. The suit offers a full kitchen and laundry services.
You will have multiple dining options: an upscale candlelit dinner at The Seven Restaurant, a farm-to-table dinner at the farm restaurant, casual dining on the deck, and afternoon snacks at the terrace just walking distance from the resort.
The resort has no kids club, but they offer babysitting services for the little and free water-sports, board games, books, and a playground.
Seven Stars offers the only heated saltwater pool on the island!
Guests can enjoy complimentary Hobie Cats, Kayaks, and Paddle Boards at the beach. The resort also has tennis courts, basketball and pickle-ball facilities, a high-end spa, a fitness center, and weekly yoga classes.
The location is only steps away from Grace Bay's shops, grocery store, and restaurants.
"The Seven Stars Resort is absolutely beautiful, amazingly clean and the staff was so incredibly friendly. We can't say one negative thing about this resort, we enjoyed every minute." – Deborah
CHECK PRICE AND AVAILABILITY ON EXPEDIA.COM
Rating: 8.5/10
Location: Grace Bay Beach
Highlights: Beachfront dining, direct access to snorkeling reef, family suits, complimentary non-motorized water sports.
If you prioritize family snorkeling on the beach over resort activities, consider staying at Windsong on the Reef. The resort is uniquely situated directly in front of a snorkeling reef just 20 yards offshore and provide complimentary snorkeling gear both for adults and kids.
I had never seen an underwater as beautiful as there, and believe me, I did not swim farther than 2 meters from the shore. You can spot turtles, tropical fish, and stingrays here.
The resort itself is smaller in size, offering 50 guest rooms which means laid back and relaxed atmosphere. For families resort offers suites of all sizes with full kitchens and backyards.
Guests can enjoy complimentary non-motorized watersports, including Hobie cat, paddle boarding, and glass bottom kayaks.
Windsong resort is also famous for its oceanfront dining and it could not get any more perfect.
Mom and dad enjoyed the romantic setup while our son played in the sand beside us after his dinner!
"Excellent location. Wonderful view of the ocean from the pool deck. Friendly staff. Clean facilities. Best snorkeling and non motorized options." – Nicole (USA)
CHECK PRICE AND AVAILABILITY ON BOOKING.COM
Rating : 9.0 / 10
Location: Grace Bay Beach.
Highlights: Walking distance to shops and restaurants, shuttle to sister property, family suits, and Seafari adventure for kids.
If you would like to stay on Grace Bay Beach but choose something slightly more casual than all the others on the list, Ocean Club West is a great option. Here, you will feel like you were at home with a great beach only steps away.
The resort offers a variety of condo style accommodations, including studios, one, two, and three bedroom suites, all of which are equipped with full kitchens or kitchenettes as well as private balconies!
Ocean Club West is also a great option in terms of location. It is only walking distance away from Providenciales many shops and restaurants.
The resort also offers a large pool, a spa, a fitness center, tennis courts, and a restaurant and bar. Guests can enjoy free bicycles to explore the area or take a free shuttle to their sister property "Ocean Club Resort" were you can access and enjoy all the complimentary facilities.
For Kids resort also offers an exciting self-guided environmental exploration game called Seafari, with fun prizes. During check-in, kids will be given a game kit with the list of species and plants found on the resort territory, and their job will be to document as many as possible. This sounds like something not only kids would enjoy!
2nd time visiting Ocean Club West. Truly feels like a vacation home when you are there with all the necessities inside and out. The grounds are beautiful and staff is helpful. Beach and ocean are breathtaking". – Jeneive
CHECK PRICE AND AVAILABILITY ON EXPEDIA.COM
Rating: 8.9 / 10
Location: Grace Bay Beach
Resort Style: Affordable Family Friendly Resort
Important Highlights: Affordable, casual, family suites, great location.
If you love above options but none are right for your budget, check out the Royal West Indies Resort located in the center of Grace Bay Beach. This small resort offers visitors great level of comfort with slightly more casual and affordable accommodations.
Decorated in a classic colonial Caribbean style, Royal Indies Resort offers studio, one, and two-bedroom suits with full kitchens and living/dining areas ideal for families traveling with their little ones. Also, all the suites feature spacious outdoor patios, washers, and driers.
The resort amenities include freeform swimming pool, complimentary water-sports, and bicycle rentals onsite.
Overall, the resort is a beautiful and private property that offers many amenities for families to enjoy while staying in Turks and Caicos
"closeness to beach, beach loungers, umbrellas, quiet complex, 2 pool areas, outdoor bar and restaurant, excellent staff and very clean/comfortable condo. Walkable to other restaurants and town. half mile to grocery store." – Julie (USA)
CHECK PRICE AND AVAILABILITY ON BOOKING.COM
Here is the map with all resorts listed so you can better visualize their locations.
FAQs about Best Family Resorts in Turks and Caicos
Are Turks and Caicos Good To Visit With Kids?
We found Turks and Caicos very kid friendly. Island has everything kids will be happy about. White pristine sand, clear water, incredible snorkeling and underwater world to explore. Also, most resorts are kid friendly when it comes to accommodations that come with cribs, high chairs, or a kids menu.
Which is Best all Inclusive Family Resorts in Turks and Caicos
Palms Turks and Caicos is my favorite choices when it comes to choosing an all inclusive family resort in Turks and Caicos. This is a great balance for families looking for luxury adult getaway where they can make sure kids are also having fur with complimentary kids club and activities. However, if you want more high energy place where kids activities are priority, go for Beaches.
Is Visiting Turks and Caicos Expensive?
Yes, Turks and Caicos is an expensive destination. If you are planing to visit Turks and Caicos for a family vacation, be ready for some splurge.
However, It is not impossible to make a budget and stick to it. Some of the tips to travel on a budget to Turks and Caicos are s to plan your trip well ahead of time, avoid visiting during the busy season, and skipeating ato expensive outdoor establishments.
Where to Stay the First Time in Turks and Caicos
Grace Bay Beach in Providenciales is the best place to stay in Turks & Caicos. With its soft white sands, Caribbean water, and large barrier reef, you will not go wrong staying here.
Conclusion: Best Family Resorts in Turks And Caicos
So here you have it. Best family resorts in Turks and Caicos on Grace Bay Beach. They are all so unique and different from each other but they all share same thing. Great location on the Grace Bay Beach and second, they are all welcome families. Personally my pick from all would be the Palms Turks and Caicos since it it is all inclusive, luxurious, kid friendly but also offers lot of quiet time and relaxation for adults. I call this a perfect balance.
If you also want family things to do in Providenciales, check out my Ultimate Turks and Caicos Travel Guide.