How to Spend a Day in Notting Hill: Family-Friendly Guide (2024)
Are you planning a family day in Notting Hill and looking for a full-day itinerary? I have got you covered.
Notting Hill is a vibrant and luxurious neighborhood in West London, known for its colorful houses, charming cafes, and street markets. This is a great day trip to addton your London Itinerary.
We visited Notting Hill with small kids. I loved every experience there. Like our other family travel guides, this itinerary is family and kid-friendly. I am sharing the best highlights of Notting Hill from our day—things to do, places to eat, and other helpful tips. In the end, I am also sharing other recommendations to include during your visit if you have more flexibility with time.
This post may contain affiliate links to tours, hotels, Amazon associates, and products. These help me earn a small commission at no additional charge to you.
What is So Special About Notting Hill
Today Notting Hill is famous for its picturesque streets, colorful houses, and unique shops.
Here you should not miss the famous Portobello Road Market, where you can find stunning and unique souvenirs and vintage clothing.
In addition, Notting Hill is the actual location where the movie "Notting Hill" was filmed. I love this movie, and it was my absolute must thing to do to visit the original movie location. And I was not disappointed.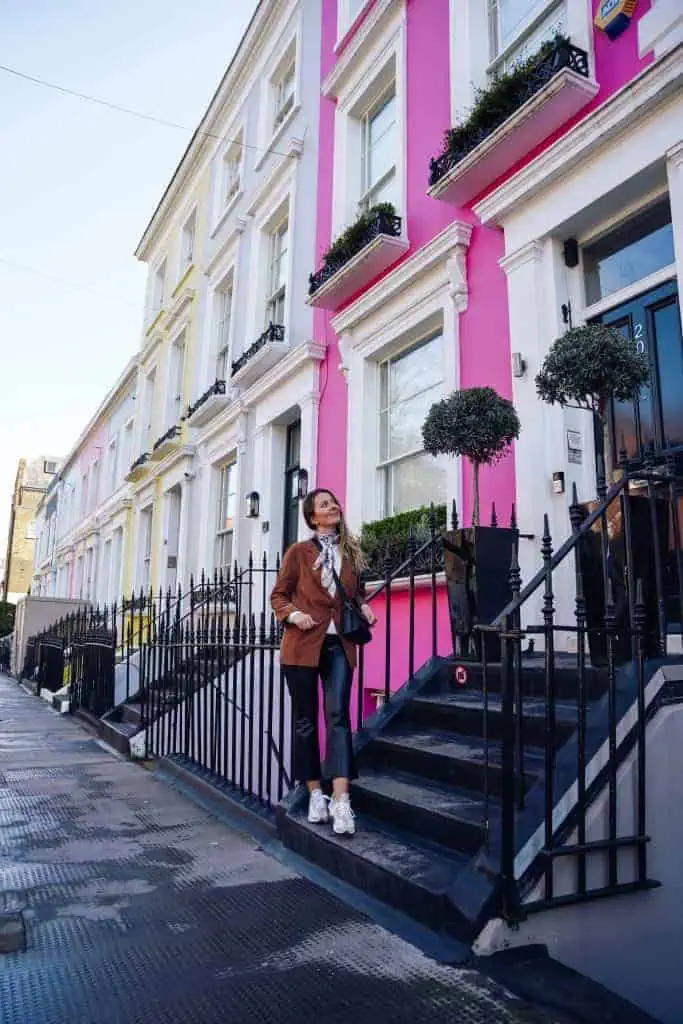 How To Spend A day in Notting Hill Guide
This guide will help you discover the best Notting Hill offers you in just one day. You will learn about the best places to eat, a list of the most colorful streets, shopping spots, film locations, and more.
Getting Here
Getting to Notting Hill in London is easy. You can arrive here by car, train, or bus.
Train: Take the London Underground (the Tube) and get off at Notting Hill Gate station. This station is served by the Central, Circle, and District lines.
Bus: Alternatively, you can take a bus. Several bus routes serve the area, including the 7, 23, 27, 28, 31, 52, and 328.
You can also take a taxi or ride-sharing service like Uber or Lyft.
1. Have Breakfast at Farm Girl
Before exploring beautiful Streets and shops, start your day with breakfast at The Farm Girl. This is one of the most popular places to have your breakfast and lunch and for a reason.
Farm Girl is known for its delicious and beautiful breakfast and brunch menus and atmosphere.
My son had the most beautiful pancakes I have ever seen. Menu highlights include avocado toast, healthy smoothie bowls, and baked goods. I also loved having my latte here.
59A Portobello Rd, London W11 3DB, United Kingdom
2. Explore Portobello Road Market
Portobello Road Market is one of the must-do things during your day trip to Notting Hill. This street market occurs every day, with Saturday being the busiest, and here you can find antiques, vintage goods, food stalls, cafes, and bookshops.
I loved the unique Portobello Road market shopping experience. I purchased my fedora hat here (wearing it in the below sections), which reminds me of this lovely day in London.
My 3-year-old also loved checking out the souvenirs. Of course, he spotted a beautiful vintage toy car in one of the windows that I could not say no to. We added it to his little travel collection.
You will find a lot of unique, quality, and vintage items that are worth checking out.
Check out the Portobello Road Market location and the hours.
3. Explore Shops At Westbourne Grove
If antiques or vintage are not for you, and you are looking for upscale designer boutiques, head to Westbourne Grove.
Located just around the corner of the Portobello Road Market, Westbourne Grove offers a sophisticated retail shopping experience. It is also known for some of the best coffee shops. Just Browse through high-end fashion brands.
4. Find Colorful Houses in Notting Hill
Notting Hill is known for its colorful houses and charming streets, but a few are particularly famous for their vibrant hues. Here are some of the most colorful streets you can find.
Portobello Road
This famous street is lined with colorful terraced houses. Impossible to miss. We started here as it was the closest to our breakfast.
Lancaster Road
This street is home to some of the most brightly colored houses with shades of pink, blue, and green, creating a rainbow of color.
Westbourne Park Road
This street is a popular spot for photographers, thanks to its rows of pastel-colored houses that look like they've been plucked straight out of a fairytale.
St. Luke's Mews
This charming cobbled mews is home to a row of brightly painted houses, a popular spot for Instagrammers looking to capture a slice of colorful charm.
Chepstow Villas: This street is famous for its row of brightly painted houses in shades of pink, blue, and yellow, which are favorite spots for photographers and tourists alike.
5. Visit Notting Hill Movie Location
Visiting Notting Hill is not complete without seeing the Notting Hill movie location! If you have not seen a movie, I highly recommend watching it before you spend a day in Notting Hill.
Where is Notting Hill Travel Book Shop
142 Portobello Road was used as a movie location for a travel bookshop, but there was never a bookshop here. Today there is a gift shop. You will know it is the movie location because it reads "The Travel Bookshop" on the top.
While you won't find the travel books, I still recommend checking what it offers. I purchased a Notting Hill shopping bag that I carry around all the time!
If you want more details about the location, Cadance Abroad has everything you need to know about visiting Notting Hill Bookshop and other film locations.
6. Shop at Notting Hill Bookshop
While Notting Hill Bookshop is not from the film location, it will make you feel like you are in a movie scene. Here, you will find all types of genres. We had fun exploring this bookshop.
Our family loves bookshops, and here we spent at least 30 minutes browsing in children's and adults' sections.
Notting Hill Carnival (August Holiday Weekend)
If you visit London the last week of August, you are lucky because that's when The annual Notting Hill Carnival takes place. This is a live music, dance, and performance celebration.
Held over a weekend, this massive event brings together diverse communities to enjoy various types of music, from live bands to DJs. Make sure to catch this unique experience if you are here during a holiday weekend in August.
Spring in Notting Hill
Notting Hill is vibrant all year around, but if you visit it during spring, be assured it will be more colorful with its beautiful spring blooms everywhere. We saw it at the end of March. I seriously could not get enough strolling around in this lovely neighborhood.
8. Eat Gelato
What better way to finish a day than with a most delicious Gelato? We found Disotto's Gelato right on the street, but there are a few other good options, such as Amorino Gelato, Gelateria, and Bodiano. You won't go wrong with either if you ask me.
9. Relax at Holland Park
Take a break from the busy streets and relax at Holland Park. This beautiful green space offers serene walking paths, enchanting cherry blossoms in spring, and the tranquil Kyoto Garden.
Kyoto Garden was on our bucket list, but if you are traveling with kids, you know that some plans (many) change. If you happen to see the Kyoto Gardens, please let me know your experience, as I have heard so many good things about it.
Other Things You Can Do in Notting Hill
Take a walking tour
If you want to learn everything discussed here, you can also book a 2-hour walking tour with local guides.
A Notting Hill walking tour is a guided tour that will take you on a journey through the area's rich history, culture, and architecture.
The term typically lasts around 2-3 hours and is led by a knowledgeable guide who will share interesting facts and stories about the area.
Visitors can expect to see some of Notting Hill's most famous landmarks during the tour, such as the colorful houses on Portobello Road, the famous Portobello Road Market, and the beautiful gardens of Holland Park.
Watch a Movie at Electric Cinema
If you have more time and flexibility, step into history and enjoy a film at the Electric Cinema, one of the oldest working cinemas in the country. With its plush seating and vintage décor, you'll feel like you've traveled back in time. Don't forget to grab a snack and a drink from the bar before finding your seat.
Snap A picture of Churchill Arms Pub.
A trip to Notting Hill wouldn't be complete without a visit to the Churchill Arms, a quintessentially British pub. The pub's unique and quirky exterior covered in flora is an actual Instagram-worthy spot.
Once inside, you can enjoy a delicious pint and some authentic British cuisine in a cozy atmosphere.
Admire Ladbroke Grove Street Art
As you stroll through the streets of Notting Hill, don't miss the opportunity to admire the vibrant Ladbroke Grove Street Art. The area is known for its rich cultural heritage, and the ever-changing art displays along the walls are a testament to the neighborhood's creative spirit. Snap a few photos as you take in the beauty and diversity of the murals, and let your imagination run wild.
Food and Drink in Notting Hill
Restaurants and Brunch Spots
Notting Hill offers a diverse range of restaurants providing Worldwide flavors.
Saporitalia is a must-try for authentic Italian cuisine, providing a selection of antipasti, pasta, and delicious pizza.
Osteria Napoletiana is a popular Napoletian Cuisine restaurant.
Churchill Arms offers a cozy pub setting and an impressive Thai menu.
Also, there are plenty of vegan and vegetarian restaurants where you can indulge in nutritious and flavorsome food options.
History of Notting Hill
Believe it or not, the area was originally rural, with farms and orchards.
However, in the mid-19th century, the area began to be developed, with new housing and infrastructure to accommodate the growing population of London.
In the 1980s and 1990s, Notting Hill became a popular destination for artists and creatives. The neighborhood also gained international fame with the release of the hit movie "Notting Hill" in 1999, which starred Julia Roberts and Hugh Grant.
Pubs and Bars
Notting Hill is home to various pubs and bars. The Ladbroke Arms is a popular choice among locals and visitors alike, known for its friendly atmosphere and impressive drinks menu.
Head to Trailer Happiness on Portobello Road for a more intimate and sophisticated experience. A trendy cocktail bar serves creative concoctions in a stylish setting.
Whether you fancy a traditional London pub or a more modern drinking experience, Notting Hill has no shortage of options to cater to your preferences.
Don't forget to visit some of the many local breweries, where you can sample an array of craft beers made right in West London.
A Day In Notting Hill Summary
I hope this guide will help you make the best of a day in Notting Hill. Please share your favorite activity, or maybe you can suggest something else to do that I did not include below in the comments.