Land of Make Believe in NJ: Guide to the Ultimate Family Day Trip (2023)
Are you looking to visit the Land of Make Believe for a summer family day trip?
Land of Make-Believe is an amusement park in Hope, NJ, with the perfect combination of rides and a water park to entertain the entire family.
Thank you, Land Of Make Believe family, for hosting us. All opinions about our park experiences are entirely my own.
We visited the Amusement park last summer and this summer (2023) with our seven-month-old baby and a 4-year-old. Our friends also joined us with their son, who is almost 2.
While my older son had a blast exploring many rides, there are only a few selected rides that kids two and under can enjoy, including a civil war train, a safari tram, a carousel, and a pirate cove wading pool.
If you want to learn more about the Land of Make Believe and what it will offer you and your family, You are in the right place. I am sharing an entire Park review and tips based on our day trip experience.
Please note that this post may contain affiliate links, and for any sales made through such links, I will earn a small commission – at no cost to you.
Top Attractions at Land of Make Believe
Water Park: The Land of Make Believe Water Park includes a large wading pool with slides, a splash pad-type playground, a lazy river, and multiple water slides.
Pirate's Cove Wading Pool: This pool is the largest in America. It has a life-size pirate ship and multiple soft slides of varying sizes, making it a popular attraction for younger children.
Civil War Train: This train loops around most of the Park and is one of the most exciting attractions for the entire family.
Pirates Escape & Pirates Revenge Dual Racing Slides: These two water slides are a popular attraction for older children and adults.
Tumbling Timbers: This spinning roller coaster is a new addition to the Park and is open daily
Family Picnic Grove: The designated area for families to enjoy a picnic together
Shows and Attractions: The LOMB offers a variety of shows and attractions throughout the day, including magic shows, puppet shows, and animal shows.
Guide to Ultimate Land of Make Believe Day Trip
Visit Imaginary Castle
Once we entered the LOMB, the enchanting Imaginary Castle was one of your first attractions. This fairy-tale-inspired structure captures your imagination and transports you to a magical world.
Explore the nooks and crannies of the castle. When we arrived, we had an interactive show for kids involved in a play; it was the cutest thing to watch kids on the stage in their little crowns. Be a King, Queen, or Maiden and star in an interactive play.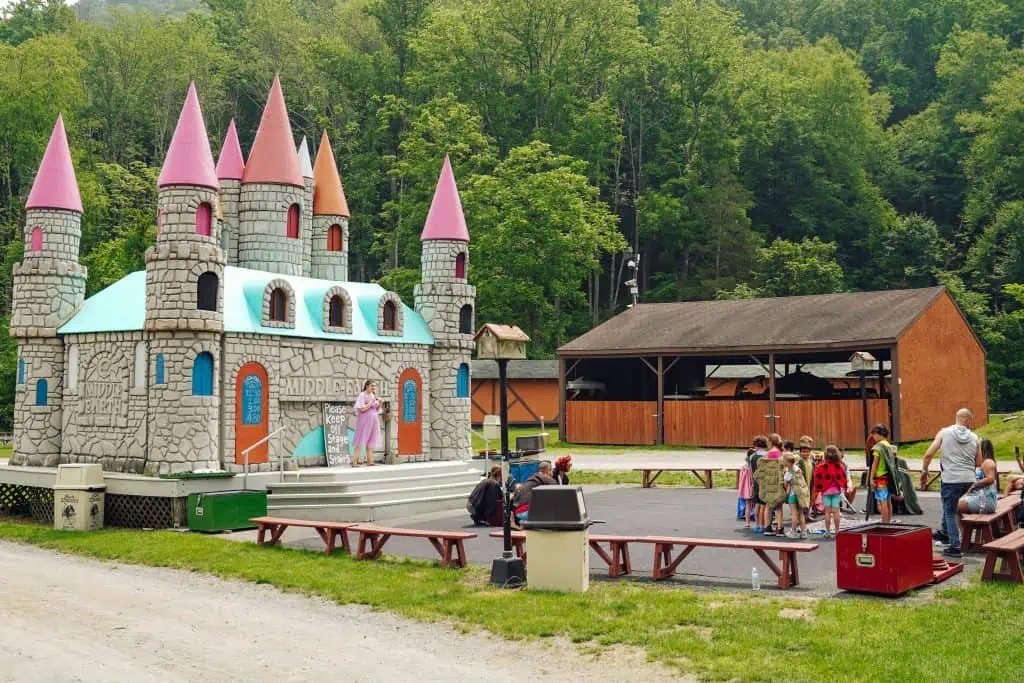 Go For a Safari Adventure
The Park offers a new Off-Road Safari adventure, an authentic off-road 4×4 safari vehicle tour that takes visitors through the Wild West of the early 1700s. The ride is part of the Park's new attractions since the 2021 season and promises sensational thrills and non-stop fun.
Say Hi to Animals in Old MacDonald's Farm
In addition to rides and a waterpark, LOMB also has its own Old MacDonald's Farm. It is a petting zoo area of the amusement park that features a variety of farm animals, such as cows, goats, sheep, and rabbits.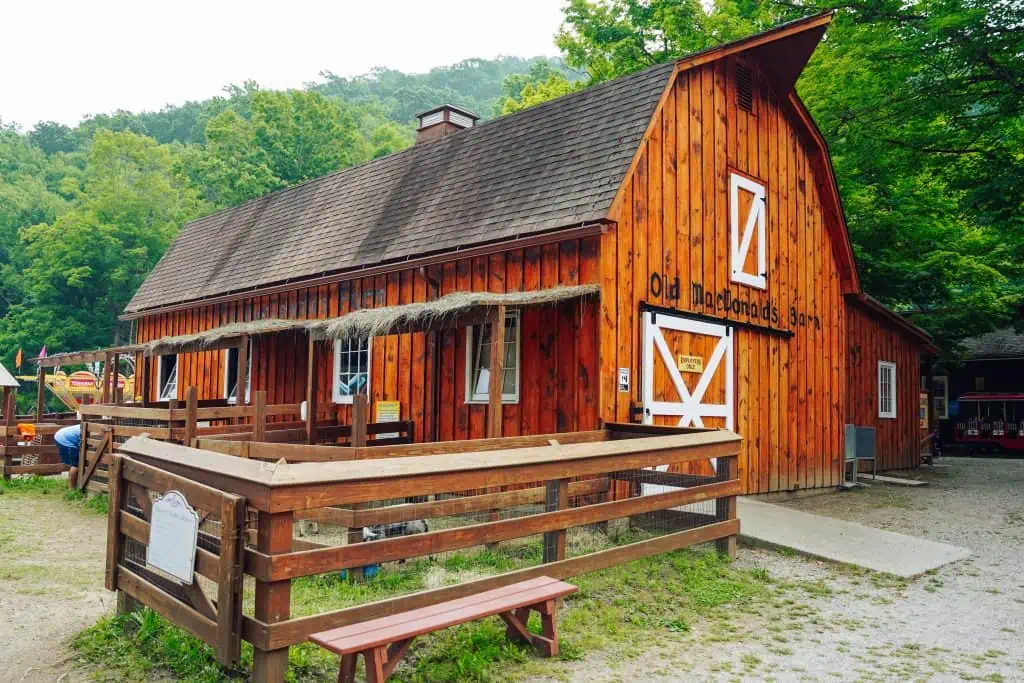 Kids loved stopping by the animals in between their rides. It is a great place for little ones to hang out if they cannot go on as many rides as older kids. I loved the shading area and the rest tables nearby.
Explore The Rides (By Age Group)
Toddlers (ages 2-4): The Park offers several gentle rides perfect for toddlers, including the Happy Swing, the Jumping Frog, and the Kiddie Ferris Wheel. My son, of course, was obsessed with a sheriff car ride, and he did it not just once.
Young children (ages 5-8): Children in this age range can enjoy various rides, including the Tilt-A-Whirl, the Pirate's Escape, and the Rockin' Tug.
Older children (ages 9-12): For older children, the Park offers more thrilling rides such as Scream Machine 360, Tornado, and Spinning coaster, as well as a new addition – Pirates Fury.
Kids younger than two years, like our younger son, they allow to ride on a carousel, train, and their safari truck. Also, do not forget that they can get cooled down in a waterpark's wading area and river. In addition, they can enjoy the Candy cane forest (now available), the Maze, Halloween House, Jenny Jump House with waterfall, Talking Scarecrow, and visit Santa.
Cool off at The Pirate Cove Water Park
After your lunch, head to the Waterpark Area! What I loved about this place is the convenience of enjoying amusement and water parks on the same day. Once we finished exploring all the rides, we headed off to cool off at the waterpark.
The Land of Make-Believe Water Park includes a large wading pool with slides, a splash pad-type playground, a lazy river, and multiple water slides.
Water Park is a Pirate-themed area called Pirate's Cove, including a pirate ship water attraction. The pirate ship is a water play structure with multiple slides and water features that kids can climb and play on.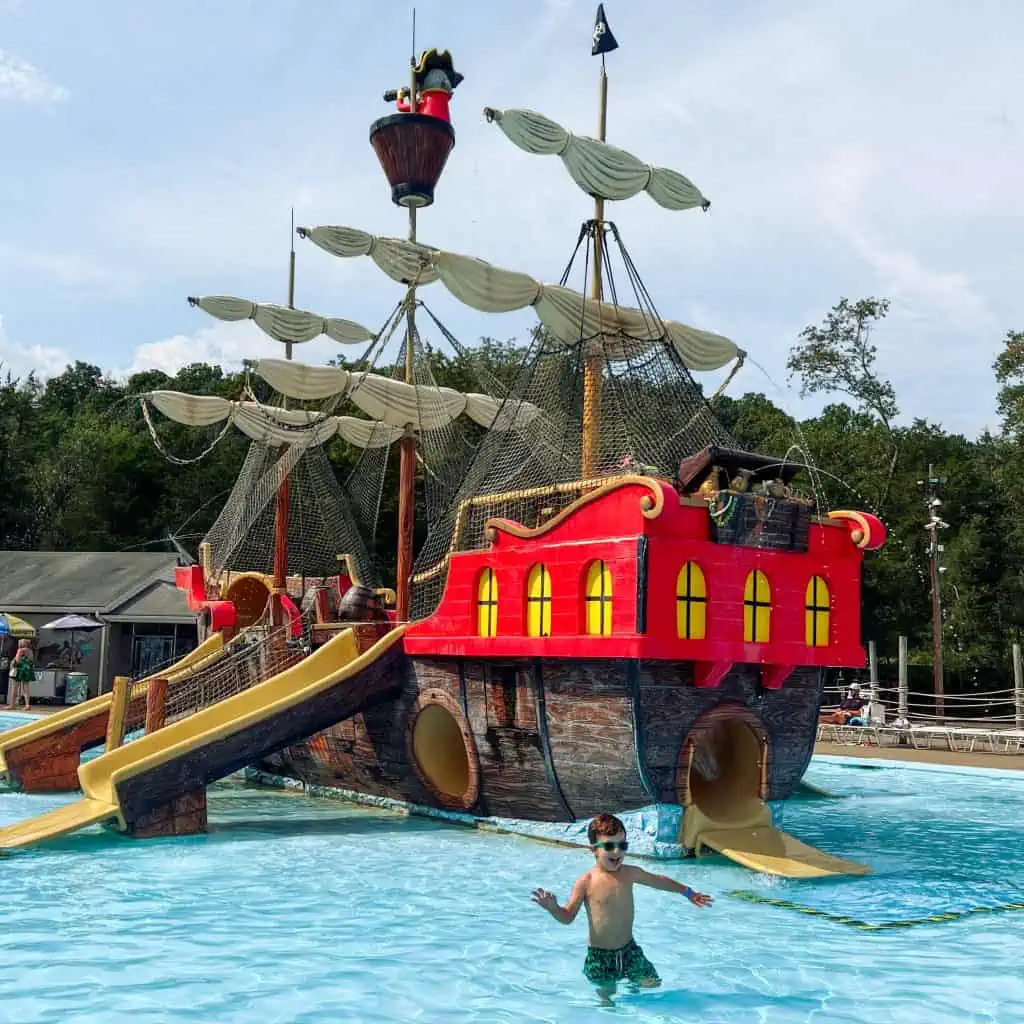 Due to our kid's age requirements, we did not do any giant water slides but enjoyed the wading pool and lazy river a lot!
I had the most fun in Lazy River with my son! Lazy River is part of water park attractions. It is a slow-moving water ride that will take you on a relaxing journey around the water park and occasionally get splashed with water sprinklers.
Park offers single and double-family floats, as pictured below. Highly recommend this experience with kids.
Dress Code: Remember that everyone must wear a swimsuit with no exceptions and proper clothes outside the water park. Lockers are restrooms available.
Visit Santa In His Summer North Pole
Well, this may not be a summer bucket list for some, but if you or your kids are excited to see Santa in summer, go through the fireplace to discover a summer North Pole. Mama Santa's Pizza, Rudolph's Ice Cream Parlor, and Santa's Aviation Shop can also be found there.
Explore Food Vendors
The Land of Make Believe offers a variety of food options for visitors. Here are some of the food options available at the Park:
Snacks: The Park offers a variety of snacks, such as popcorn, cotton candy, soft ice cream, Milkshakes, Slushed, Rootbeer Floats, Sno-cones, and Homemade Ice Cream sandwiches.
Park is also known for their fresh-cut fries with or without Real Cheddar Cheese and homemade fudge. We tried the fries. So good!
Fast food: There are several fast food options available at the Park, including burgers, hot dogs, chicken fingers, and fries.
Pizza: The Park has a pizza restaurant that serves pizza by the slice or whole pies.
Drinks: There are several beverage options available at the Park, including soda, lemonade, iced tea, and bottled water.
Tip: Do not forget to bring cash to buy food from the above food vendors. The Park mostly accepts cash and discovery cards. ATM is also available, but to avoid a headache and ATM Fees, bring your cash.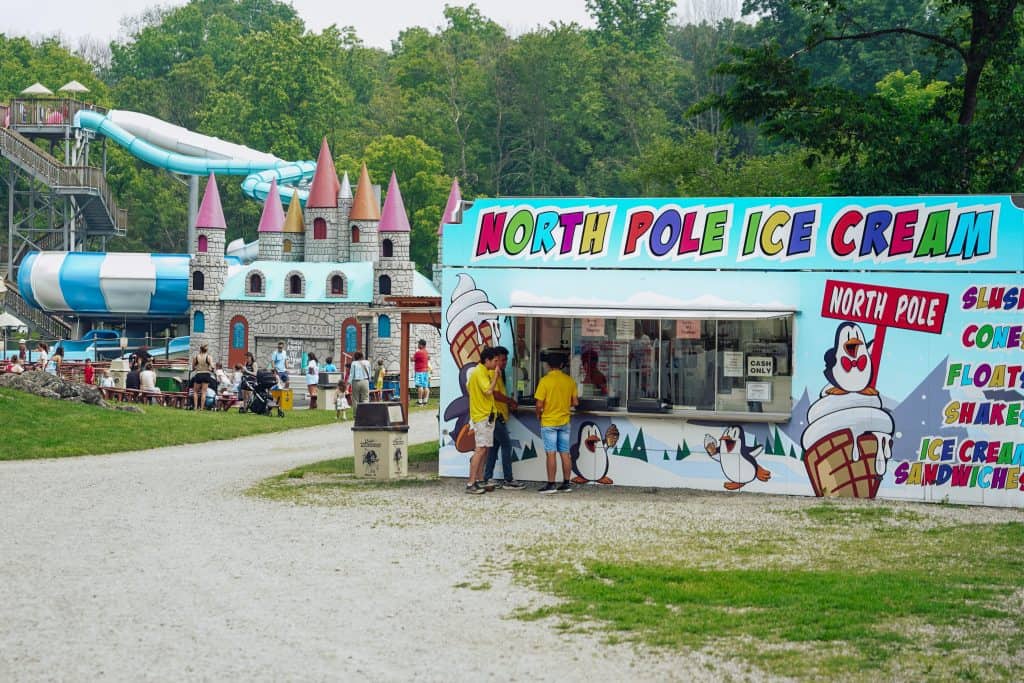 Check Out a Vintage Airplane
Within the Park, you will spot an airplane, which is a vintage 1948 TWA Constellation airplane that was once used for commercial flights. My husband and son spent good few minutes climbing aboard to explore the cockpit and cabin. Very cool stop for curious kids obsessed with airplanes.
Have a Picnic at the Family Picnic Grove
Are your kids picky eaters, or do you want to pack something to go? The Land of Make Believe also offers ample space for visitors who prefer to bring their food. This meant so much because we always carry some kids favorite snacks and meals. I would highly recommend a small cooler if you plan on a picnic.
Picnic spots are available throughout the Park, allowing you and your family to take a break from the excitement and enjoy a peaceful meal together.
If you bring your cooler, packed with your favorite snacks and refreshments, you can purchase grab-and-go options from one of the Park's many food stands.
Please clean up after picnicking: Alcohol, glass containers, and grilling are prohibited.
Best Time to Visit
The Park operates on weekends from Memorial Day until the third weekend in June and every day from June 18, 2023, to Labor Day. Park hours are from 10 AM to 6 PM, with the water park closing at 5:30 PM.
You can easily enjoy the Park in a single day, giving you plenty of time to explore both the rides and the water park.
Also, be on the lookout for their weather updates on social media. Park usually closes when an increment of weather is expected.
Land of Make-Believe Tickets
Ticket prices for a whole day (8 hrs) are $ 33.76 plus tax for ages three and older. Seniors are $30.95, plus tax, and children under 3 are free.
Season Passes are $140.68 plus tax and can be used any day during the season, including Holidays and weekends—no blackout dates.
Tips To Consider Before Visiting LOMB
When visiting the Land of Make-Believe, follow these safety tips to ensure a comfortable and secure trip for your family:
Stay hydrated, and take breaks in the shade or designated rest areas when needed.
Locker rentals are available. The lockers are not included in the admission price.
Wear sunscreen and reapply throughout the day, especially after visiting the water park.
Bring cash with you: Cash and travelers' checks are accepted at all register locations. Discover Card is accepted at park admissions and the gift shops in Aviation and cookie house. To avoid confusion, keep Cash with you all the time. If needed, ATMi is located by admissions.
Frequently Asked Questions
What Should I Bring to the Land of Make Believe?
We brought sunscreen, towels, and swimsuits for the water park. Don't forget your camera to capture the fun memories! Snacks and drinks are allowed, but glass containers and alcohol are prohibited. Wear comfortable shoes for walking around the Park is also a good idea.
Where is Make Believe Land located?
The Land of Make Believe is located in Hope, New Jersey. There are various ways to reach the Land of Make Me Believe. Depending on your location and preferences, you can choose between driving, taking a bus, or even a train.
I highly recommend visiting it by car to comfortably have everything you need for a day. We still had to carry towels, some lunch, and changing clothes.
By Train: If you're coming from the New York City area or other nearby cities, train travel could be a great option. Find connecting transportation from the train station to the Park.
By Bus: Bus lines are available to reach the Park for those who like public transit—research routes and schedules to ensure a smooth journey.
How Big is the LOMB?
The Park is spread across a sizable area, offering water park attractions and amusement rides. While the exact size of the Park isn't specified, it is easy to visit the entire Park in a single day, leaving plenty of time for the water park.
Are There Any Discounts Available For Tickets?
There are group rates and special offers available for tickets. Keep an eye on their Website, Facebook, and Instagram for the latest promotions and seasonal discounts.
What is Included in an Admission?
Water Park
Free Parking
Free Picnicking
Gift Shops
Attractions
Rides
Shows
Maze
Lockers
So when are you visiting? And what are you most excited to do at Land of Make Believe? Share your thoughts in the comments.