Places to Visit In Grindelwald : Family Friendly Guide
If you are planning to visit Grindelwald, Switzerland, and are looking for information about things to do and places to visit in Grindelwald, you have come to the right place. Below you will find all the information you will need while in Grindelwald. We saw most of these places with a 2-year-old, so this guide is family-friendly.
In this post, you can learn what to do in Grindelwald and how to do it, where to stay, and what day trips you should look into.
I hope you find this information helpful and enjoy your visit to Grindelwald as much as we enjoyed ours.
What is Grindelwald, Switzerland, Known For?
It is one of the most popular Winter and Summer destinations in Switzerland. Here you will find all Winter sports and activities. In Summer, you can enjoy its beautiful nature, incredibly scenic hikes, and magnificent views. No matter the season, it is always the right time to visit Grindelwald.
First Mountain
Visiting First Mountain is one of the top places to visit in Grindelwald. There is much to enjoy, from an incredibly scenic Gondola ride to views and activities.
Once you are at the top of the First, there is much to do; your biggest headache will be picking your activity. I hope you will make your decision by the time you are there. Hopefully, this article makes it easier for you to make these tough choices.
You can purchase tickets to the Gondola here. You can also purchase Gondola tickets at the station. The price is CHF 64 per traveler. Tip: make sure to ride it to the top.
1. First Cliff Walk
First Cliff Walk is one of Grindelwald's most popular places to visit. It is very close to the Gondola stop and does not take too much of your time. Plan about 20-30 minutes for this activity. The "walk" is a walkway on the side of a mountain with breathtaking views.
First Cliff Walk is open year-round, but visiting on a clear day is highly recommended. There are no additional tickets required. We skipped the cliff walk because we were traveling with a small toddler, but we posed a photo right below that so you can have an idea. If time is on your side, I would recommend doing it.
2. Bachalpsee Lake
We skipped the First Cliff Walk because we prioritized hiking to Bachalpsee Lake.
Bachalpsee Lake is at the top of my places to visit in Grindelwald. It is billed as an "easy" 50-minute (one-way) hike. I can say that while the hiking trail itself is clean, clear, and "easy," it was not a walk in the park. But we did manage to complete the hike with a kid. There were other families with children as well. All in all, it is a good and straightforward hike to do.
The hike is beautiful. You are immersed in gorgeous mountains. You will likely run into small herds of cows (maybe even more than once), see beautiful birds, and come across many lookouts where you will stop for a minute or two. Overall, the hike is more like 65-75 minutes each way. It takes longer than 50 minutes. They must have timed someone who hiked directly to the lake and never stopped to look around. However, it is worth every second of your time.
As a side note, while the path is clear for those with small children, it is not necessarily stroller friendly unless it's a stroller with bigger wheels.
While there are plenty of hikers, once you get to the lake, there is much room for everyone to spread out. You will have your privacy. The views are unbelievable. It is hard to describe how beautiful this place truly is. We loved being there so much that we even forgot our toddler's nap time was way past due (he fell asleep in our arms, which he never does, on the way back. It was not fun to carry him around).
3.Schynige Platte Hike
If you are an avid hiker and are up for a challenge, you can try the First to Schynige Platte hike. On the website where they give information about First Mountain, they state that everyone should do this hike at least once in their lifetime.
It is one of the best places to visit in Grindelwald. The hike is about 6 hours long, with views you won't easily forget. More information about this hike is here. You may have guessed we skipped this hike due to traveling with a child but do let us know how much you love it if you end up doing it!
Other Activities
There are other paid activities you can do when you are visiting First. If you have time and a spirit that calls for more adventures, here are some additional options for your trip to First.
First Glider. Fun activity resembling a zipline, but instead, it is a flying bird. The 800-meter-long flight goes as fast as 83 km/h.
First Flyer. Similar experience to the first Glider, but without the bird! Views and trills are still spectacular, however.
First Mountain Cart. This cart allows you to travel down the mountain while having great fun.
First Mountain Restaurant. Spectacular views, fresh air, and a wide selection of fresh food and drinks.
Jungfraujoch Excursion / Top of Europe
Jungfraujoch Excursion (Top of Europe) is one of the top places to visit in Grindelwald, not only in Grindelwald. This is the activity that everyone seeing Grindelwald must make time for.
Jungfraujoch is also known as the Top of Europe because, at 3,454 meters / 11332 ft, it is the highest train station in Europe.
Visiting Jungfraujoch Excursion (Top of Europe) is a bit pricey. But it is worth it. This is not where you should try to make room for savings. I highly recommend visiting Jungfraujoch.
For pricing and more information, you can also visit this site.
Please note that booking your tickets weeks or months in advance for your trip here is generally unnecessary. The better option is to wait and pick up tickets a day or two before your visit. This is to ensure that you will have good weather during your stay.
When you visit, dress in layers. Even during summer days, it can get pretty cold here.
At the top, there are shops, restaurants, snow activities, and a lot more to do. The experience is one to remember. The Jungfraujoch is open year-round but visit on a clear day.
If you want to learn more about visiting Jungfraujoch, check my blog soon for the ultimate guide to the Top of Europe.
Jungfraujoch Activities
Beyond incredible train (and Gondola) rides and beautiful snowy mountains, here are some other things you can do here:
Alpine Sensation. The 250-meter-long corridor connects Sphinx Hall and Ice Palace with frosty temperatures, 30 memorial tablets, music, and one giant snow globe.
Ice Palace. You can observe different ice sculptures created by other artists here.
Sphinx Observatory Deck. Incredible views of mountains covered in snow.
Snow Fun Park. You can enjoy snow activities here, even during the summer months.
Hike to the Monchsjoch Hut. This is a 45-minute-long hike, and you will see many people on its path. However, if you are not up for a walk, ensure you still get out in the snow and outside the building. Even at the base of the trail, the snow is fresh, the views are spectacular, and the air is fresh and crispy. We had a lot of fun.
Gletscherschlucht (Glacier Canyon Walk)
Glacier Canyon Walk is another one of the top places to visit in Grindelwald. While you may spend half a day visiting First or Top of Europe, visiting the Glacier Canyon Walk does not have to be a considerable time commitment. It is a short but impressive activity.
It is located near the center of Grindelwald (about a 35-minute walk or 5 min drive. There is also a bus you can take here). You walk on a walkway curved in the middle of a glacier, surrounded by rock walls from each side and a river below. There is also a very cool "spider web" that you can walk on (or jump on) constructed several meters above the Lutschine River. For more information and tickets, you can visit this website.
Grindelwald Village
It is easy to get distracted by so many places to visit in Grindelwald, but exploring the village is a good idea. The town of Grindelwald is beautiful and very picturesque. There are a lot of restaurants and some shops for you to explore as well. Time permitting, I would highly recommend spending some time in the village. Evening strolls in cozy village streets with some hot cocoa were so relaxing!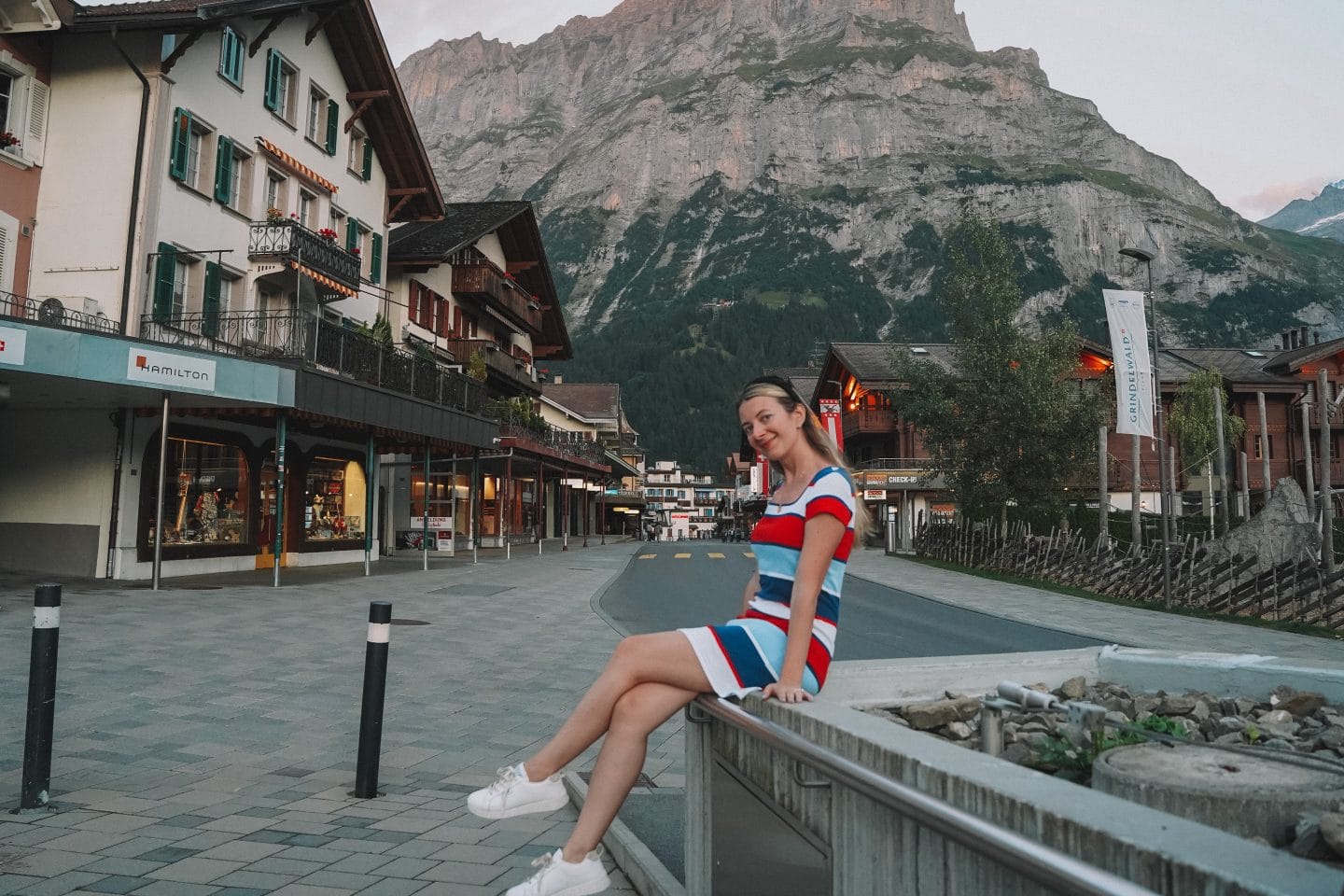 Gondola Rides
If you take my recommendation about places to visit in Grindelwald I discussed above, you can cross off this activity from your list. However, for whatever reason, if you cannot dedicate a half-day or full-day to visiting First or Top of Europe, I would still recommend jumping on a Gondola in Grindelwald. The views are stunning.
Grindelwald Hikes
What makes Grindelwald so beautiful is how snow mountain peaks, green mountain valleys, and an incredibly cozy village merge to create this beautiful place. Therefore, it should not be a surprise that hiking in Grindelwald is a worthwhile experience. Here are some hikes you can look into:
Männlichen to Kleine Scheidegg trail – is an easy, family-friendly hike.
Eiger Trail – another family-friendly hike at the bottom of Eiger Mountain.
First to Bachalapsee – easy, family-friendly walk to Bachalapsee Lake.
First to Schynige Platt – ~ 6-hour hike from First to Schynige Platt.
Day Trips to Consider from Grindelwald
The one seemingly irrelevant cool thing about Grindelwald is its location. When planning our visit to Switzerland, we wanted to spend about five days in/around the Alps and a few more days closer to the cities. However, we did not want to change hotels every day. While researching, we discovered that staying in Grindelwald would allow us to have a base location in the mountains and still visit destinations on our list for day trips. And that is precisely what we did. After finishing our places to stay in Grindelwald, we made a few day trips.
Interlaken
Interlaken is a beautiful city between two lakes (Thun and Brienz). It is about a 25-minute drive / 45-minute train ride away from Grindelwald. There are many shops and restaurants. Of course, beautiful views and picturesque spots all around. We were initially planning to stay in Interlaken instead of Grindelwald. If you stay near this area, you should find time to visit Interlaken. Here are a few critical locations you can visit while in Interlaken:
Funky Chocolate Club – Getting a taste of Swiss chocolate is good. Getting a taste of Swiss chocolate you make yourself is even better. Check out this famous chocolate club if you are a chocolate enthusiast.
St Beatus Caves – These extraordinary caves are located near the lakes of Interlaken. You can explore over a kilometer deep into the mountain.
Oberhofen Castle – If you are up for a visit to a magnificent park near a lake with a pretty cool castle, this is the place for you.
Harder Kulm – There is a stunning viewing deck with a glass floor at the end of this trip. There is also a restaurant you can visit.
Unterseen – a small picturesque and historic town in Interlaken that you should stroll around.'
Cruise on Lake Brienz – as mentioned, Interlaken is between two beautiful lakes. You can take a cruise on these lakes.
Brienz-Walk – if you are looking for a spot by the lake where you can walk and get rest, you should visit this spot.
Lauterbrunnen and Wengen or Murren
Lauterbrunnen is another picturesque town that you should visit from Grindelwald. It is also about a 25-minute drive away from Grindelwald. The city is small and beautiful, with plenty of restaurants. There are two main attractions here. Staubbach Falls, visible from the village, and Schilhorn, also known as Piz Gloria, is a mountain top where James Bond 007 was filmed.
However, because Lauterbrunnen is a small town, you can combine your day trip to Lauterbrunnen with a trip to Wengen or Murren.
Wengen and Murren are two small car-free villages located near Lauterbrunnen. You can visit them by taking a train ride from Lauterbrunnen train station. We visited Wengen. It was a 10-15 minute train ride with spectacular views over Lauterbrunnen. Wengen itself is also very pretty. We spent a couple of hours here before returning to Lauterbrunnen.
Bern
Bern is the capital city of Switzerland. It is a little over an hour's drive from Grindelwald, but it was definitely worth the drive. The old town is very charming. Bern is also known as the city of fountains because of how many beautiful fountains you can find here.
It also makes a pretty good trip on a rainy day. There are about 6 miles of arcades connecting different shops and restaurants. You can walk around all day, covered in the rain and enjoying your day. Here are some top destinations in Bern for you to consider.
Zytglogge – is a landmark town located in the old town of Bern. While you are here, make sure to explore the old town.
The Cathedral of Bern & Münsterplattform – the cathedral is another beautiful architectural work. Munsterplattform is a park located right next to it. If you are looking for a place to relax for a few minutes, you can stop by.
BarenPark – is a park in the middle of Bern, located on the Aare river, where you can see 3 very big and healthy bears going about their business. Unlike typical zoos you may be used to, these bears have plenty of space to roam around.
Rose garden – a beautiful rose garden in Bern located near the BarenPark. Not only do you get to see pretty flowers here, but you can also get a spectacular view of the city of Bern from above. There is also a restaurant where you can grab your lunch here. As a side note, if you start from Zytglogge or the Rose Garden and walk toward the other destination, you will see many top landmarks, beautiful buildings, river, fountains, and shops. It is an easy way to see a lot of what the old city has to offer without feeling like you are lost.
About Grindelwald, Switzerland
Grindelwald is a quinte village in Swiss Bernese Alps. There is a lot to do and many places to visit in Grindelwald. It is a popular tourist destination that offers plenty of winter and summer activities for visitors all year round. It also happens to be the only other large village in the Jungfrau region you can reach by car (the other is Interlaken). By car, it is about 2.5h away from Zurich. It is situated at the base of two famous mountains (Eiger and Wetterhorn). In sum, Grindelwald is a stunning village that also happens to be a very convenient one.
Best time to visit Grindelwald
You can visit Grindelwald any season. It is guaranteed to offer you the best nature and adventures each season. However, if you are not into winter sports or you are not willing to travel there for just views, go for spring-summer months but remember, July-August is the peak season, so expect higher rates and more crowd.
Where to stay in Grindelwald
You can easily find accommodations in Grindelwald, Switzerland, whether in a traditional chalet or a Boutique hotel.
We wanted to stay at the boutique, a quiet place overlooking the Grindelwald Village but also a family-friendly Hotel. Hotel Belvedere Grindelwald was a perfect combination of both. It offered various services and activities to adults as well as kids. If we are back in Grindelwald in the future, we would certainly consider staying here again, with or without the kids.
You can find out more about the hotel in my Hotel Review.
How many days do you need in Grindelwald?
Make sure you plan to stay at least three days in Grindelwald. If you want to do some activities mentioned above, such as Jungfraujoch and Bachalpsee, you may have to count them as one-day activities because the entire experience takes time. Plus, if you make some day trips from Grindelwald, you can certainly stay here more than that. We chose to wait five days in Grindelwald and four days in other cities because we made significant day trips directly from Grindelwald.
How to get to Grindelwald
You can get to Grindelwald by car or train. The nearest international airport is Zurich. From Zurich, the drive is about 2.5 hours. You can also take a train which is about 3 hours long.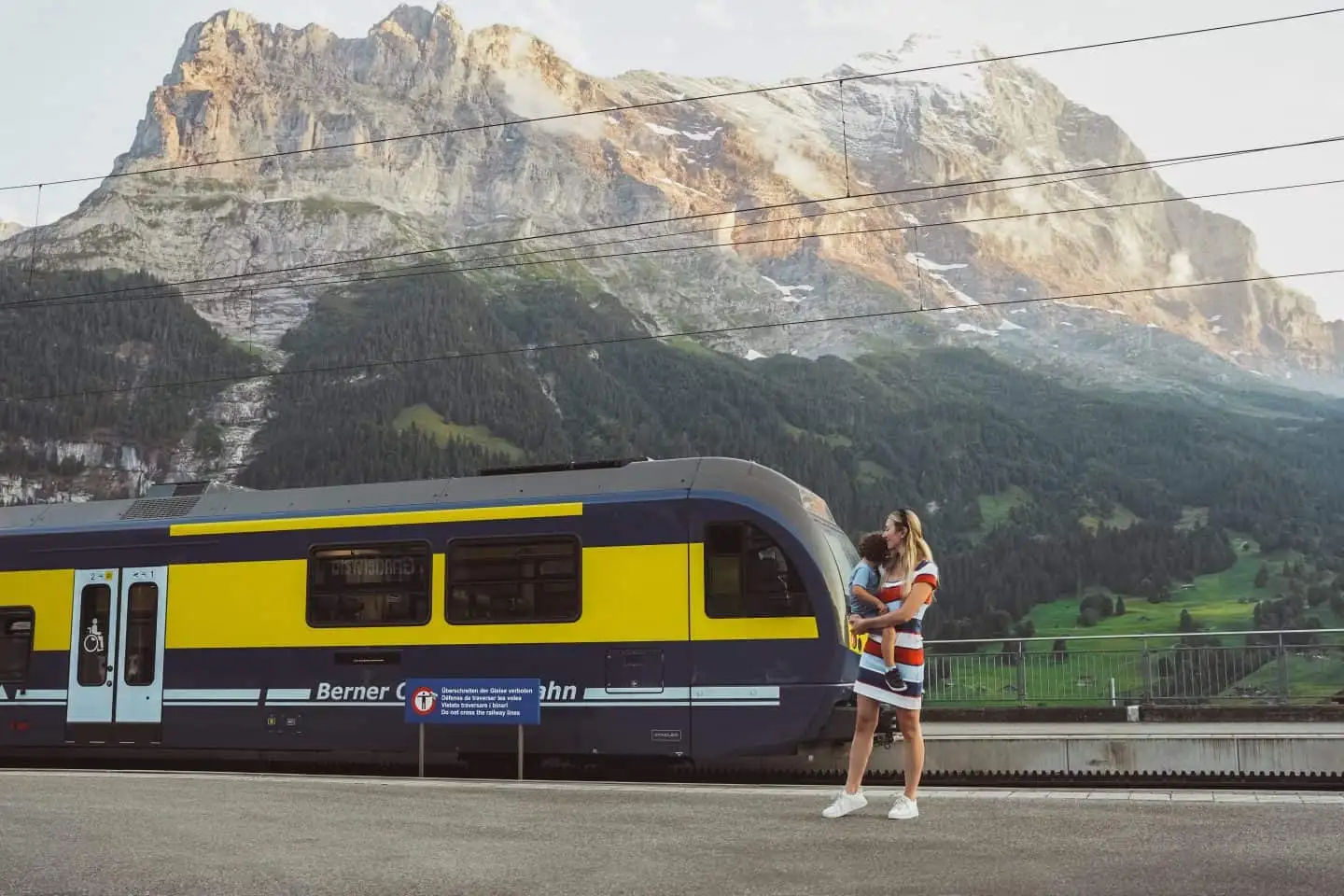 Whether renting a car or relying on trains is a personal choice. Traveling with a child, we opted for a car, and I can say that we had no trouble getting around or finding parking.
Are you planning to visit any of these places when in Grindelwald? Would you add anything? Let me know in the comments!