Sofitel DC: What it's like staying at Sofitel in Washington DC
In this post, I will take you inside the French hotel Sofitel in Washington, DC, and share our family experience staying here for a weekend. Sofitel hotel is located about two blocks away from the White House. It is a short walk from other famous sights.
Read my review below if you want a luxurious but family-friendly stay in Washington, DC.
About Sofitel DC Hotel
Sofitel Lafayette Square, Washington DC, is part of the French Sofitel Hotels & Resorts chain. If you want to indulge in modern luxury and take yourself to a little France, you can stay at Sofitel hotels worldwide in more than 40 countries. Sofitel Hotels & Resorts are part of the Accor Group. The Accor Group is the largest hotel hospitality company in Europe, including luxury hotels like Sofitel and Fairmont.
Lose yourself inside little France with modern luxury when staying at Sofitel in DC. From the time we checked in, we were in love with the art exhibitions throughout the hotel, the fantastic cuisine, and the overall hospitality.
The hotel is pet and kid-friendly. We were delighted to see a fantastic kids' menu at their restaurant and took full advantage of it. In addition, they were kind enough to send an entertaining tent for our son in the room, along with some arts and crafts. These Little gestures showed how much the hotel cares about every guest, including the little ones.
Rooms
From a Luxury room to a presidential suite, everyone has a choice. We stayed in a luxury king room. The room was quite large, with beautiful decor and artwork. The bathroom had a separate shower and a bath tab, which was convenient for us. Our kid prefers baths, and it was a nice bonus. They also provided us with a crib at our request.
The room overlooked downtown Washington DC. We did not have a chance even to turn on a TV but there was a 55-inch HD TV waiting for guests to sit back and relax after city sightseeing or business meetings.
Type Sofitel Lafayette Square Washington DC below in the search box with your available dates and see your best room options.
Sofitel DC Afternoon Tea
Do not miss the afternoon tea when staying at Sofitel, DC. If you are at the hotel on a Saturday, it is your lucky day because the hotel restaurant has a unique "Le Goûter" menu option that stands for Afternoon Tea and is served between 2:00-4:00 PM. This beautiful and delicious package costs $49 per person and includes freshly brewed tea, assorted finger foods, and delicious sweets! You do not want to miss it.
The afternoon tea was almost sold-out since we visited DC during cherry blossom season. I highly recommend booking your teatime spot at least 24 hours ahead. Contact Opanile restaurant to reserve your spot.
Sofitel DC Restaurant
Sofitel DC Has an on-site Opaline Bar & Brasserie with an outdoor French Terrace. Guests enjoy breakfast at the Brasserie, but the rest is at the bar and the terrace.
Inside the bar are very cozy and modern seating areas surrounded by contemporary artwork. We had the pleasure of having our dinner here one of the evenings. However, our favorite was dining on the terrace.
While the weather was pretty chilly that day, we felt comfortable surrounded by heaters and fire pits. I was delighted with their handcrafted and seasonal cocktail menu. We loved the cheese and charcuterie board, seared salmon, and truffle fries from the dinner menu. Also, if you love French onion soup, you are lucky here.
Sofitel has a fantastic kids' menu. As mentioned before, if you stay with kids, you will be happy to see their kid's menu options. You can choose chicken fingers, tomato pasta, mini burger, and mac & cheese.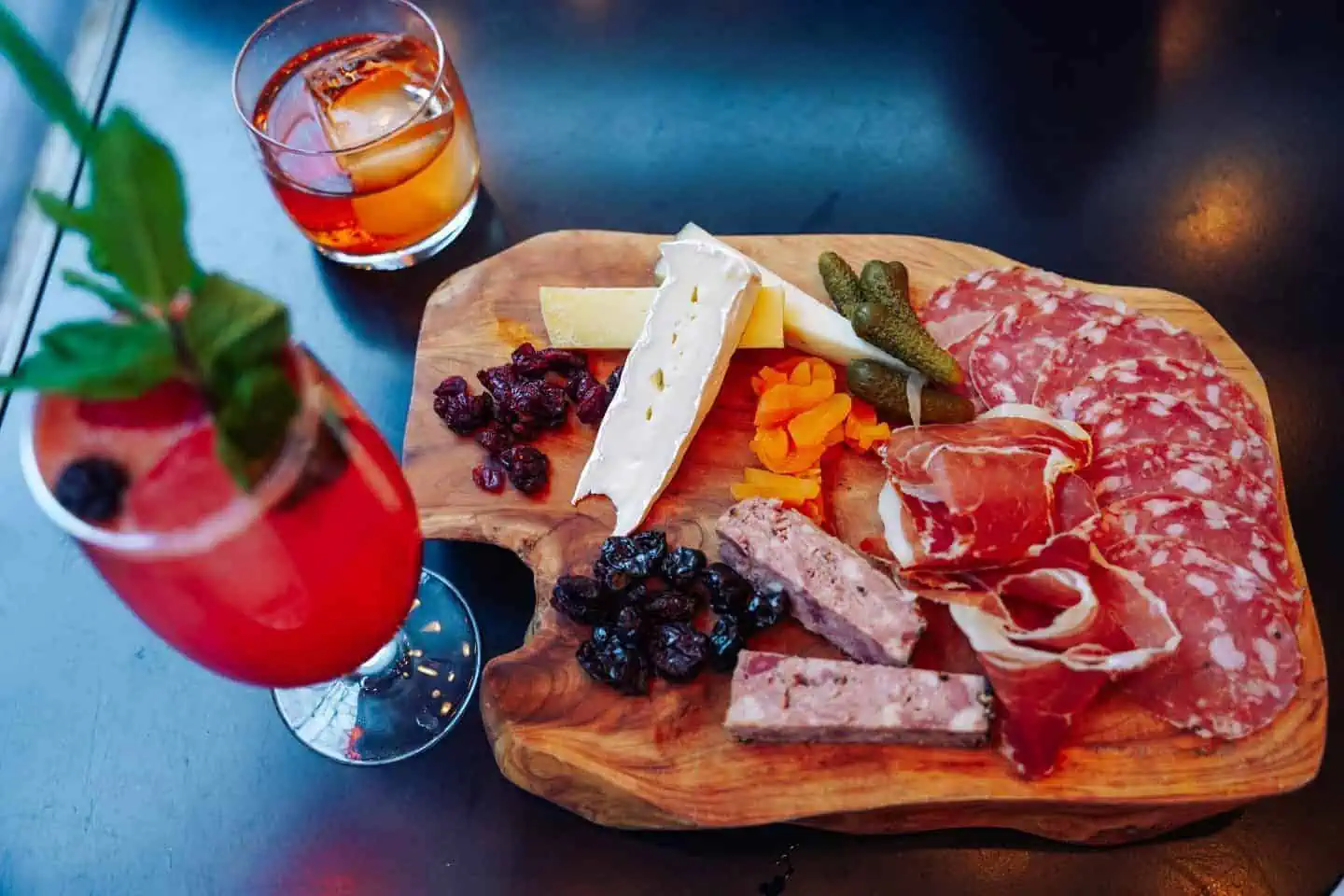 Sofitel DC Breakfast
The Sofitel room service was excellent. One morning, we woke up, and we felt like ordering room service for breakfast. Let me tell you, I am not a big fun eating on the bed, but occasionally I allow myself to indulge in this type of luxury.
The food was delivered fast, about 20-25 minutes after ordering. Everything looked so delicious I did have to tell my son not to get used to this type of morning.
The breakfast menu is fantastic. When you stay at Sofitel, DC, you must try their famous smoked salmon bagel. Breakfast at Sofitel truly felt like I was back in Paris. I cannot wait to come back here.
The next day we tried our breakfast at the Brasserie. The restaurant was almost full when we arrived. And non-hotel guests were in line to make their reservations. Here I tried their special egg and potato dish. It tasted just as delicious as it looked.
Location
Sofitel DC is located at the corner of Lafayette Square. The hotel is two blocks or about 6 minutes from the White House, about a mile from the National Mall, and 2 miles from the United States Capitol. We loved our walks to the National Mall and the US Capitol. When we visited DC, the weather was not on our side, so we grabbed a taxi to see a few attractions a few times. But if it is nice out, nothing is better than walking in DC. Besides this, the Sofitel Hotel is close (about a mile) to the Smithsonian National Museum of Natural History. It is a must-see attraction with kids (and the entrance is free).
Family Friendly
We have often stayed at a luxury hotel. They are not all kid-friendly. Sofitel truly made us feel like they were very welcome of our kid. Although we did not see many kids at the hotel, our son had a fantastic time. We would undoubtedly bring him in again here.
Personal Review
From the minute we checked in, we knew that our stay at Sofitel DC would be excellent, and it was. I am not sure if it was the fact that the personnel, food, and cleanliness were top-class or because this hotel made me feel like I was somewhere in France for a weekend. Probably both!
If you want a luxurious and French-inspired stay in the heart of DC, check out Sofitel DC Hotel, and let me know about your experience!
Lady Out of Office was mentioned as a local Washington, DC, expert on the Redfin blog! Check out the article we were featured in: Locals Reveal 10 Insider Tips for Moving to Washington, DC | Redfin