Staying at Hotel Belvedere Grindelwald: Hotel Review
Are you planning to visit Grindelwald, Switzerland, and looking for the right hotel? If you are looking to stay at one of the best hotels in Grindelwald, you have come to the right place. In this post, I will be reviewing what it is like to stay at Hotel Belvedere Grindelwald. I hope you find this post helpful in deciding where to stay during our trip to Grindelwald.
Before I begin, I would like to thank this property for hosting us for a couple of nights. All opinions about this hotel and the experiences are my own and have not been swayed by Hotel Belvedere's hospitality. Please keep in mind that I only choose to work with hotels where I would prefer to stay irrespective of collaboration. Hotel Belvedere Grindelwald was already at the top of our list.
Getting Here
The best way to get around in Grindelwald is by train, but we had a rental car to accommodate our tiny traveler. Whether you arrive here directly from Zurich Airport or any nearby town, getting to the hotel should be a hassle-free experience.
It takes about 3 hours from Zurich by train and about 2.5 hours by car. If you arrive by car, the hotel offers free outdoor parking, and if you decide to travel by train, the station is only 5 minutes walking distance from the hotel.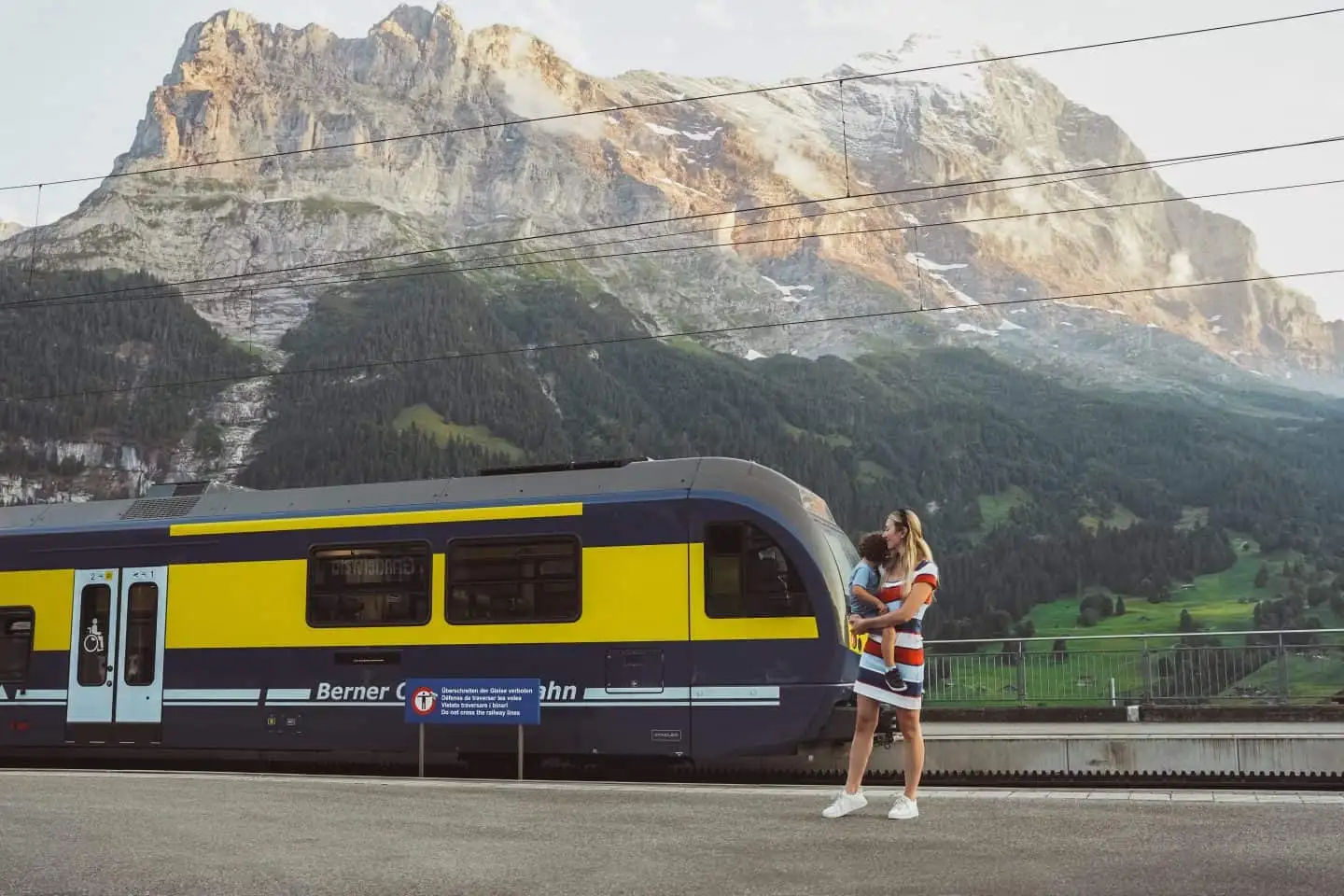 Rooms
Hotel Belvedere Grindelwald offers 56 rooms. Every room comes with stunning views of the Mountains!
No matter how small or large your room will be, you get a balcony and a view of either Mountain Eiger or Wetterhorn without any extra upgrades! Yes, you heard it right. You may not be spending more than a few hours a day at the hotel while exploring the Swiss Alps, but waking up to the epic views certainly brings the day to an inspiring start.
We stayed in a classic double room with a sofa bed and a balcony overlooking the Eiger Mountain. If you have been to Europe, you will notice that rooms are relatively small and get smaller in the city centers. This particular room, for example, was 28 – 32 m2, but still big enough for a family of 3 and all of our belongings.
If you are traveling with a bigger family, you can check out larger family rooms that can accommodate up to 9 people.
Location : Belvedere Hotel Grindelwald
Grindelwald is located in the Jungfrau region, the region of Barnes Oberland. It is a popular tourist destination (for a perfect reason). There is plenty to do in the summer and winter alike. Grindelwald also happens to be the only one of two large villages you can access via car (the other is Interlaken). It is also a perfect location if you plan to make trips to Jungfraujoch excursion (Top of Europe), the first cliff walk, or a hike to Bachalpsee lake.
Interlaken, Lauterbrunnen, Wengen, and Murren are also part of the Jungfrau region, so you can easily make day trips from Grindelwald.
As for the Belvedere Hotel Grindelwald is located only about a 5-10 minutes walk (through a beautiful village) from the village center.
Family Friendly Activities
The hotel has been family-run for three generations. Families with children are welcome here. Ever since our son joined our adventures, this has become important to us in choosing hotels.
The hotel Belvedere has quite an amount of things to do for families. There is a game room with various family games, including a small corner for toddlers. In front of the hotel entrance, there is also a small playground which was much help to us to keep our wild one entertained. In addition, there is a family-friendly indoor pool. We did not have the time or energy to enjoy this amenity, but I took a glimpse to get a picture! It is beautiful and quite large.
The hotel also offers family-friendly spa services, such as a heated mine gallery, 'experience' shower, and whirlpools. Saunas and steamed baths are for adult use only. There are just so many ways to distress and relax here.
Most importantly, they have a kids menu available where you can find everyone's favorite chicken/fish nuggets, fries, spaghetti, vegetables, and breadcrumb veal, and more.
Sun Deck at Hotel Belvedere Grindelwald
Enjoy your delirious frozen cocktails, beer, and Juices (for kiddos) on a terrace with 360-degree views of a Grindelwald Valley. Sun terrace is connected with the indoor area, where you can also find multiple lounging chairs, a billiard table, and a fireplace. It does not get any better than this if you ask me.
Food and Drinks
When you stay at Hotel Belvedere Grindelwald, you do not have to go far for your meals. The hotel offers you breakfast, and dinner inside the hotel restaurant, Belvedere. For lunch, you may order what is available through Bar and Lounge.
The breakfast buffet was my personal favorite. There was so much variety of food available to satisfy everyone's appetite; cured meat assortments, bakery, eggs, serials, dairy, fruits, and more. So Good! I could not stop eating their croissants and jams.
If you are an early bird, you may even get a bonus spot with a window seat to enjoy spectacular mountain views and your delicious breakfast.
When it comes to dinner, expect a more formal service and atmosphere. Our table was so beautifully decorated, and the food was so delicious. We only wish to have had more time to enjoy these meals. Our son is too young to appreciate slow dinners in a fine dining restaurant. Lol.
In addition to the main restaurant, bar, and lounge, the hotel has another restaurant opened only in December-April and offers Swiss specialty dishes such as Fondue. It would make a cozy little place to enjoy after a winter adventure in the Swiss Alps. Make sure to check it out if you are traveling during those months.
Overal Experience : Staying at Hotel Belvedere Grindelwald
It was hard to say bye to this property. From the minute we checked in to the minute we checked out, everything went so smoothly.
The hotel staff was incredibly accommodating and professional. They were very well versed in English, so we did not feel any pressure regarding communication. In my opinion, the high ratings and not-so-cheap hotel price does stand well along with the experience you get here. We cannot wait to come back here someday when we are back in Grindelwald, Switzerland.
If you are looking to learn about things to do and places to visit in Grindelwald, check out my post here, where I outline everything you need to know about spending time in Grindelwald.
Have you been to Grindelwald? Are you planning a trip there soon? I would love to know! Let me know in the comments.