15 Practical Tips For Visiting Paris For The First Time
Are you planning to visit Paris for the first time? Then you may want to stick around here. In this post, you will read how to approach and communicate with Parisians, what to expect at the cafes and restaurants, how to plan museum visits, and other practical tips for visiting Paris for the first time.
Based on our one-week in-pairs experience, plus things others have recommended us, I have put together 15 practical tips to keep in mind for visiting Paris.
Tips For Visiting Paris
1. Learn Basic French Phrases
English is not a widely spoken language in Paris. And If you have heard that the French appreciate the effort from tourists to speak some French, it is true. You do not have to stress learning a lot, but it is good to learn a few basic and common French phrases. Googling some of those will get you started, but I highly recommend grabbing a beginner's French phrasebook if you want to make a better effort and impression!
2. Stay in Central Location
If you are visiting Paris for the first time, choose to stay in the Central Location. Paris is divided into 20 arrondissements (districts), called 1st, 2nd, 3rd, etc. As the numbers of arrondissements get higher, they become more residential. The central location is between the 1st and 7th arrondissement, where you will find the most attractions, shops, and restaurants.
3. Start a Conversation With a "Bonjour"
Whether getting a croissant from a cafe, grocery shopping, or asking someone for directions, always start your conversation with an introductory greeting: " Bonjour Madame" or "Bonjour Monsieur." While this may seem one of the most straightforward tips for visiting France, do not underestimate its power. A simple "Bonjour" is the least you can do to avoid leaving an unpleasant impression as a tourist.
4. Dress Nice
Try to pack chic and elegant clothes for Paris but do not be afraid to be simple. You do not need to dress in suits and wear high heels to fit into the French code. Simple and comfortable clothes with flat shoes can be your chic Parisian look. To make it simple, you can not go wrong with perfectly tailored black blazers, denim, sundresses, stylish sweaters, and booties. Want to know more about how to dress like Parisian? In "How Do French People Dress in Paris," Camille Chevalier-Karfis summarizes the perfect packing list for visiting Paris for teenagers, men, and women.
5. French Have a Different Schedule
France has a much different work-life balance than what you probably are used to if traveling from the United States. Most shops and restaurants close during lunchtime, typically between 12:00-2:30 PM, and some may have slightly different hours. Keep this tip in mind for visiting Paris and schedule your lunch breaks accordingly.
6. Schedule Your Museum Visits
Things to Know Before Visting Paris
When planning your Paris itinerary, keep in mind that most museums, monuments, and sightseeing will be closed one day a week. For example, the Louvre Museum is closed on Tuesdays. The Versailles, Musée d'Orsay, Musée Carnavalet, and the Musée Rodin are closed on Mondays.
7. Sunday is a Rest Day For France
Sunday is the traditional day of rest in France. You will find most French restaurants, banks, and shops closed throughout the country, including Paris. However, the famous shopping district Champs Elysées remains open seven days a week. But there, you will find many overpriced cafes and international shops that will feel less French.
8. French Dine Late
French people eat both lunch and dinner late. Dinner is considered the most extended meal of the day. Thus, Most French cafes and restaurants will be closed before seven or even eight o'clock in the evening. When you visit a French restaurant for dinner, you may end up finishing your meal at ten or eleven o'clock at night. French restaurants give long gaps between each curse. If you are not up for long dinner experiences (a must-have!), try to reserve something a little earlier in more touristy spots.
9. Tipping In France is Up To You
You may or may not know that tipping in French restaurants, cafes, or bars is entirely up to you and rarely expected. The service charge of 15% will be automatically included in your bill (by French law). However, this does not mean you should not tip more if you find the service and food outstanding. Leaving a small tip on top of the service charge is considered very generous.
10. Do Not Speak Loudly in Public
Do And Dont's in Paris, France
French respect other people's noise levels, especially when at restaurants. You will notice that most French speak quietly at the cafes and restaurants, but most tourists are loud. Try to be aware of your surroundings, and do not be surprised if you are even asked politely to speak a little quieter not to disturb others.
11. Ride Metro
Riding the Metro in Paris is one of the cleanest, fastest, and comfortable ways to get around the city other than walking. It has been voted as one of the best public transportation systems globally for a reason.
Using the Paris metro may seem unclear at first, but it is effortless to get a handle on it once you look at the map and ride a few times. Metros will take you within a few minutes walk to anywhere in Paris. Skip Taxi and traffic on the streets.
12. Skip Takeout Coffee
When you visit Paris, skip takeout coffee and have your hot drinks at the bakery or cafes. You may also find that most establishments do not make coffee to go in paper cups unless you visit Starbucks or its competitors. Even Starbucks has relatively more sitting areas in Paris because the French enjoy their drinks sitting down.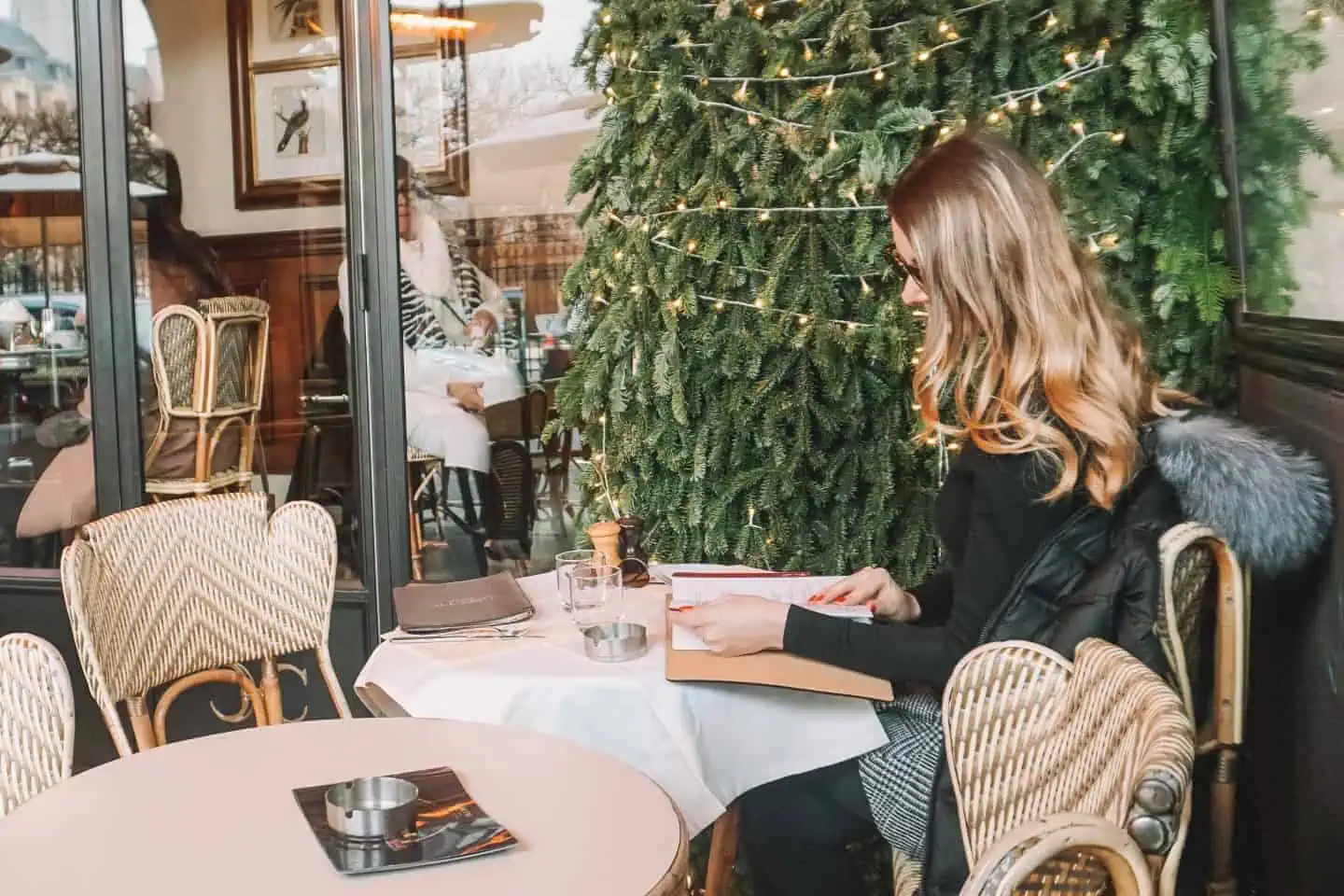 13. Wear Comfortable Shoes
As mentioned above, the metro is a very convenient way to get around Paris, but do it on your feet if you want to feel the city. It is the best way to discover cute streets and hidden cafes. Also, many attractions are within walking distance of each other, so make sure to wear comfortable shoes when exploring Paris.
14. Tips When Eating Out in Paris
Eating out in Paris is one pleasant experience. You will be very impressed by top-rated restaurants to fantastic cuisine, but there are a few tips for visiting Restaurants in Paris or anywhere in France.
Familiarize With Menu. While the French food is delicious, the menu could be confusing as some dishes are not easy to translate. Looking at the menu before arriving at the restaurants will make the experience more enjoyable.
Ask For Water on Your Table. Waiters in French restaurants may not automatically bring water to your table unless you ask for it. And if you ask, make sure to be specific about tap vs. bottled water; otherwise, you may be surprised with extra euros added to your bill for a fancy water bottle.
Ask For Bill Yourself. Same as water, a check is not automatically brought to your table after your meal because it could mean a rude service. Simply ask for your bill after your meal l'addition s'il vous plait. Remember, in Paris, you are expected to take your time when eating out, and waiters will not try to rush you by providing the unrequested bill.
15. French Go On a Vacation in August
August is the sunniest month in Paris, and most businesses go on a vacation. You can find many shops and restaurants closed with a note on their doors "Be back in September, which certainly causes a longer waiting time to get into attractions, shops, or other eating places.
On the brighter note, Paris in August is the best month to enjoy outdoor picnics, beach, movies, and strolling around. Whether you want to visit Paris in August depends on what you want to do there.
Did you find these tips for visiting Paris helpful? What else would you add?