A Week in Paris: The Ultimate 7 Day Itinerary for First Time Visitors (2023)
Are you planning to spend a week in Paris for the first time but unsure how to plan your itinerary? You have come to the right place.
My husband and I spent a week in Paris while I was 12 weeks pregnant with my first kid. It was a little overwhelming but also full of adventures and delicious food. Now I want to help guide you through Paris week with my detailed itinerary and practical tips for visiting Paris to make your trip hustle-free and enjoyable.
If you have always dreamt about visiting Paris, you are not alone. Paris is elegant, romantic, historic, and simply delicious! It is one of the most visited cities in the world, and for a good reason.
Some of the links in this article are affiliate links. I receive a small commission that keeps me with blog expenses at no extra cost to you.
A Week in Paris Itinerary Overview
This itinerary will cover things to do and sights to see each day during your seven days in Paris. We have visited most of the recommended places, with just a few exceptions that I think were worth mentioning.
Below you can find the highlighted sections of what to expect to learn from this itinerary. What to do in a day, where to eat, etc. If you believe the list is a little too long for your schedule or you are traveling with kids and find it hard to keep up, feel free to skip to attractions that most interest you to visit for the first time.
Is One Week Enough In Paris?
One week in Paris is a reasonable time for first-time visitors to experience as much as the city can offer, but it will be busy. You may not feel like jumping from one site to another daily, which is fine. Having long breakfasts at the coziest street cafes and indulging in macaroons and hot chocolates is also part of the Parisian experience, so do not stress about it.
Paris Basic Tips For the First-Time Visitors
Language
Locals speak English, but French is Paris's most widely spoken language.
Tip: Parisians appreciate it when tourists understand or can communicate in some French. While it is not a requirement, learning a few essential words and phrases is much encouraged before you visit. If you want a small handbook, check out Lonely Planet French Phrasebook & Dictionary.
Currency
The Euro is the currency of France. Euro is also the currency in many other European countries.
Climate
July and August are the hottest months. (75-80F). Expect somewhat chilly weather throughout other months.
Best Time To Visit Paris
All year-round! However, if you are more likely to enjoy the warm weather, visit between June – and August. Another great alternative is September-October, when there are not as many tourists.
Paris Public Transportation
It is effortless to go around in Paris. The most cost-efficient way is to rent a bicycle. But if you are not up for it, use the metro or bus, or grab a taxi.
Popular Sights in Paris
Paris is most famous for its Eiffel Tower, pastries, the Louvre museum, Notre Dame, the Moulin Rouge, and unbeatable fashion.
Credit Cards & Banks
Credit cards are widely accepted in touristy areas, cafes, and stores in Paris. However, small establishments may opt for cash, so keeping some with you is a good idea.
Tip: The closer you are to the most popular tourist attractions, the more you spend in stores or cafes. Try to go a few blocks farther.
Paris Electricity
If you travel from the United States or another country with a different voltage than Paris, you must bring your adapter.
Paris Safety
Paris is considered a safe city, but some pick-pocketing may usually occur in highly crowded touristy areas. Stay aware of your belongings.
Where to Stay in Paris: Paris Arrondissements
Now it is time to decide which arrondissement is right for you to spend a week in Paris. Paris is divided into 20 Arrondissements. These are the neighborhoods with different historical areas. Each one is individual with a unique style.
As first-time visitors, we chose to stay in the 7th arrondissement, the Eiffel Tower District.
This is one of Paris's most popular and romantic areas for tourists. In addition, this is the closest arrondissement to some of the main attractions, such as Musée d'Orsay, the Eiffel Tower, and the gardens of Musée Rodin: many hotel options, photo opportunities, and food options.
You can find out about the rest 19 arrondissements in this Paris arrondissements guide by World in Paris to decide which area will be the best for you.
A Week In Paris: Day 1
We usually do not do significant sightseeing on the first day when we do longer than weekend trips. The truth is you will most likely be jet-lagged and exhausted. This city has so much to do that getting good sleep is essential. The first day is great for resting and exploring your neighborhood area.
Champs De Mars
If you are staying in the 7th arrondissement or closer, walk to the Champ de Mars Park. This extends from the École Militaire to the Eiffel Tower. You may bring your picnic or enjoy the sparkling Eiffel from the lawn.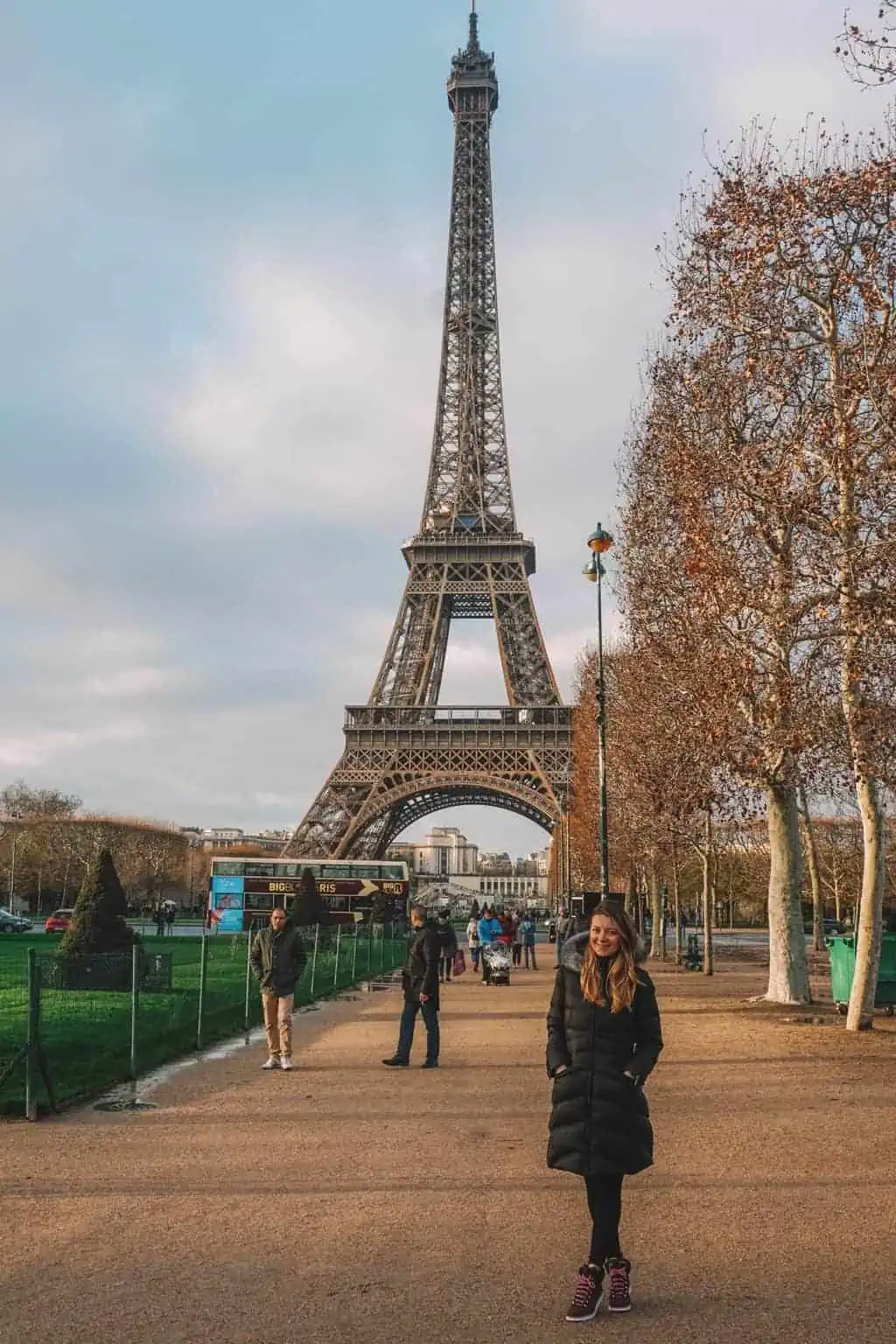 Trocadéro Carousel
Just steps from the Eiffel Tower, you will come to the cutest carousel, the Trocadéro Carousel. This one is also one of the most picturesque places in Paris, so bring your camera or phone!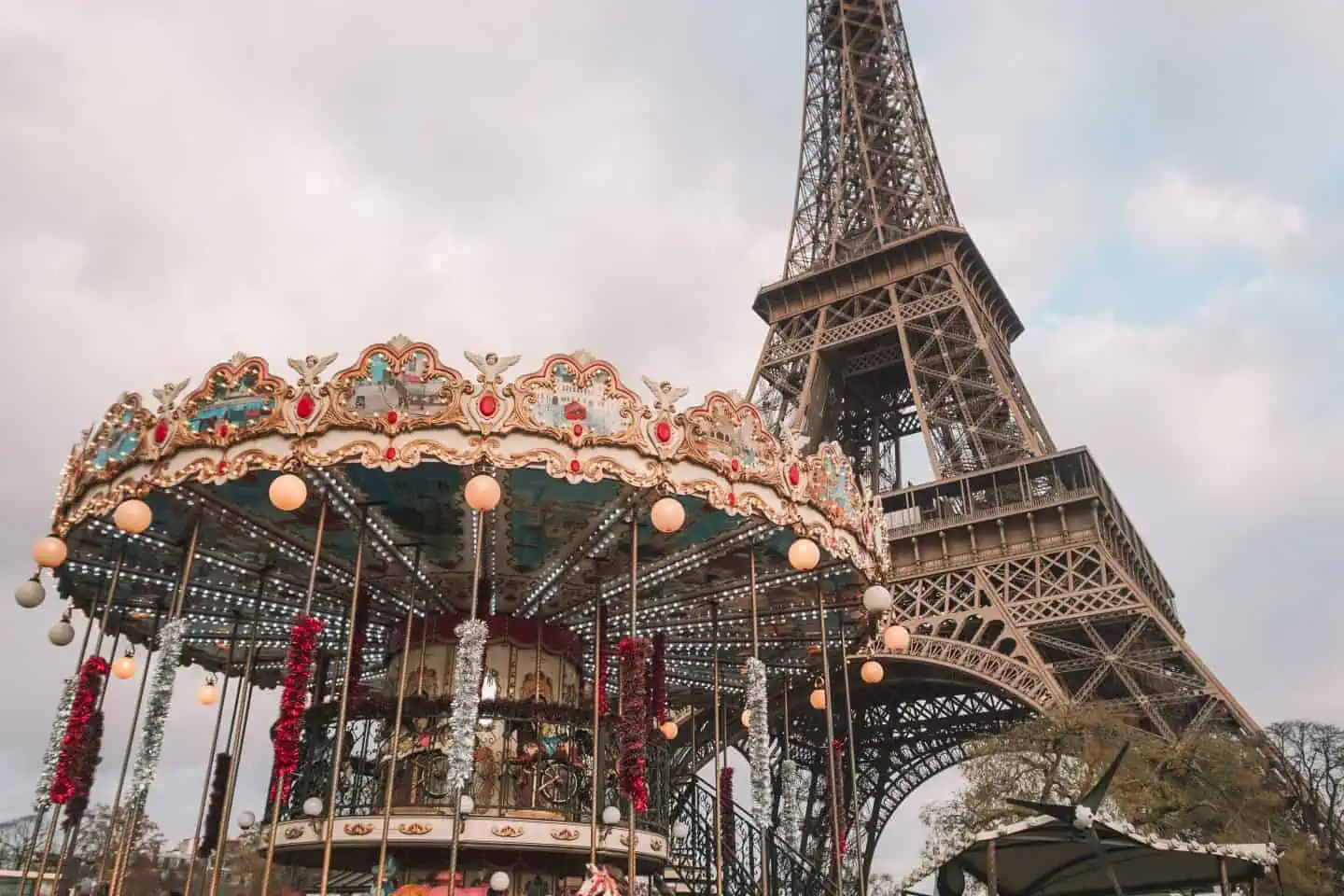 Pont Alexandre III
Pont Alexandre III is the famous bridge in Paris across the River Seine. This river connects the 7th and 8th arrondissements, and you can also spot the Eiffel Tower from this bridge.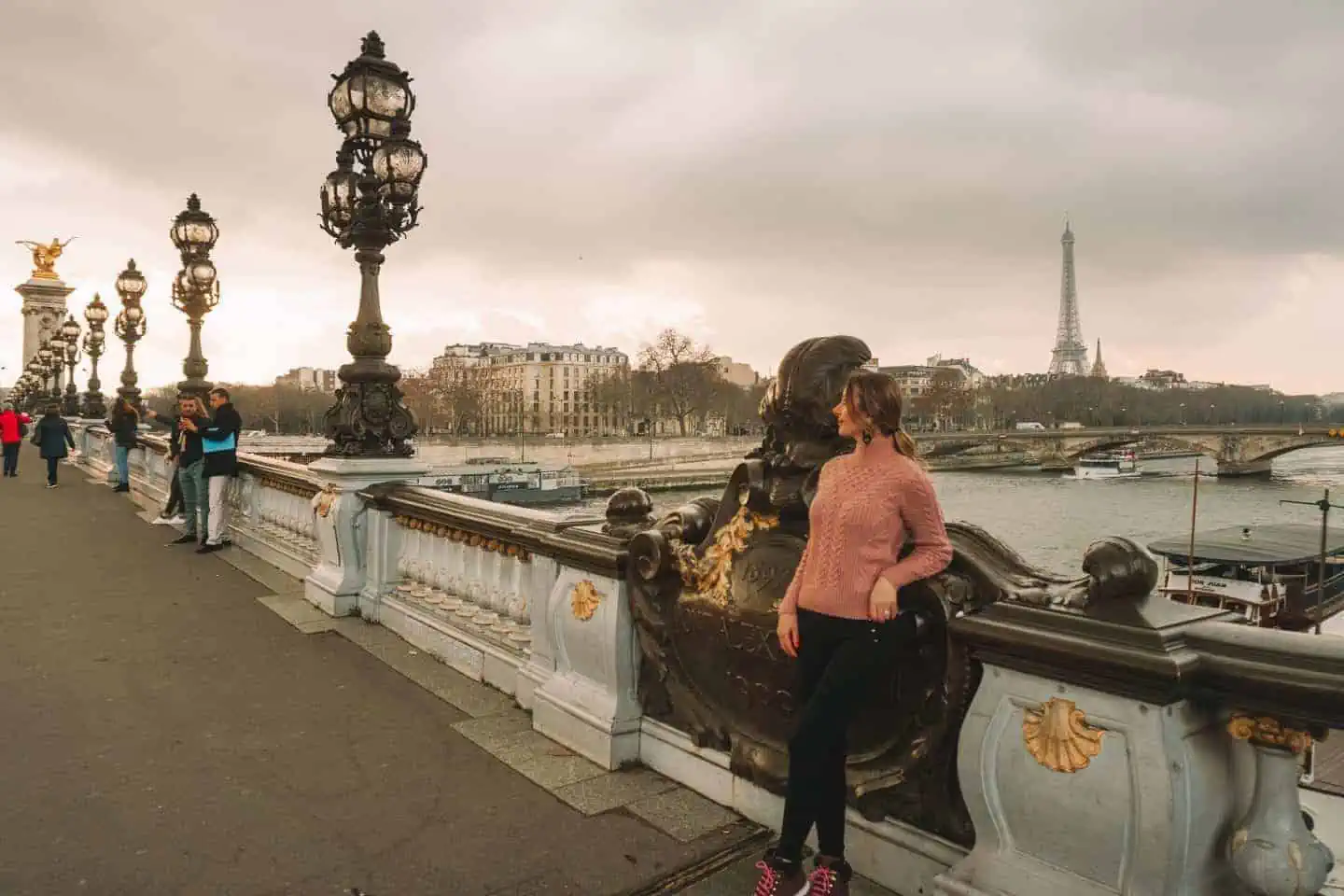 Day 2. The Louvre Museum and Cafe Angelina's
On the second day of your week in Paris, head to the second most famous sight in Paris, Louvre Museum, and afterward, treat yourself to the most delicious lunch at Cafe Angelina nearby. Don't forget to order their favorite creamy hot chocolate!
The Louvre Museum
Louvre Museum is the world's largest, most famous, and most diverse museum. Did you know it would take 100 days to view all the artwork in the museum?! WOW, indeed! We did not have that much time. So, we planned.
Louvre Museum Visiting Recommendations
Get there early in the morning. The museum opens at 9:00 AM and closes at 6:00 PM every day except Tuesday.
Avoid using the Pyramid entrance; unless you are visiting during the winter when there is less crowd.
Wear comfortable shoes. There are many stairs inside the museum to climb.
The museum is closed on Tuesdays, January 1st, May 1st, and December 25th.
General Admission price €17 PP; 18 years old and under can visit the museum for free.
If you purchase tickets online instead of on-site tickets, you will save time entering the museum.
A few most notable works of art that you can see at the Louvre include the following:
Mona Lisa by Leonardo da Vinci (Denon Wing, Room 711, 1st floor). Be prepared. It is tiny!
Winged Victory of Samothrace (Exact origin not known). (Denon Wing, Room 703, ground floor)
Venus De Milo by Alexandros of Antioch ( Sully Wing, Room 346, ground floor)
Les Noces de Cana by Paolo Veronese (Denon Wing, Room 711, 1st floor)
The Coronation of Napoleon by Jacques-Louis David (Denon Wing, Room 702, 1st floor)
The Rebellious enslaved person by Michelangelo (Denon Wing, Room 403, ground floor)
Angelina Paris
Angelina Paris is one of the best cafes you can eat in Paris. It is just a short walk from Louvre Museum, so this should be your lunch spot when you visit the Louvre.
The most exciting part of our lunch was the long waited hot chocolate. So creamy, so sweet, so rich! Probably the best I have ever had.
Address: 226 rue de Rivoli, 75001 Paris France
Open daily 8:30 AM – 7:30 PM
Day 3. Champs-Elysées and Dinner at the Eiffel Tower
Avenue Champs-Elysées
On day 3 of your week in Paris, head to the most popular and beautiful avenue in Paris called Champs-Elysées. Champs-Elysées is 1.2 miles long street that runs between Place de la Concorde and Arc de Triomphe.
The avenue is famous for its theaters, cafes, and luxury boutiques. You can window shop, eat macaroons, and visit nearby sights.
Ladurée Paris
Ladurée is an upscale bakery located on Champs Elysées Street. They specialize in French macaroons in different flavors. While you will probably try macaroons somewhere else during your week in Paris, this place should not be missed.
Address: 75 Av. des Champs-Elysées, 75008 Paris, France
Open daily 8:00AM-9:00PM.
Arc De Triomphe
You will end the Champ Elysee Avenue by arriving at the Arc De Triomphe—one of the most famous Paris monuments and a historical symbol. You may visit this place day or night to catch a stunning panorama of the city from the terrace.
Eiffel Tower Dinner
We finished the day by dining at the Eiffel Tower restaurant. A bit touristy, but we could not pass by on the opportunity. There was about a 20-30 minute wait for tickets and elevators. Everything was very organized. We had a lovely time there. However, we could have easily skipped this place for dinner. You could get a better quality dinner for the money. Totally up to you!
The highlight of the night in Paris is the sparkling Tower. No matter how often you watch it, it never gets boring, but you must catch it at the right time.
The Eiffel Tower starts to sparkle from sunset to 1:00 AM every hour for 5 minutes.
Day 4. Plaza Athénée, Saint Chapelle, Notre Dame, Paris Opera
Day 4 was the busiest! However, some of these attractions/sights are very conveniently located with each other, so it is not too hard to handle.
Hotel Plaza Athénée
Located on the famous Avenue Montaigne, the Hotel Plaza Athene will take your breath away. With its remarkable seasonal decor and outstanding atmosphere, it has become one of Paris's top places. Not only should you get here to take the most stunning pictures, but try to reserve your spot for an unforgettable Parisian breakfast experience.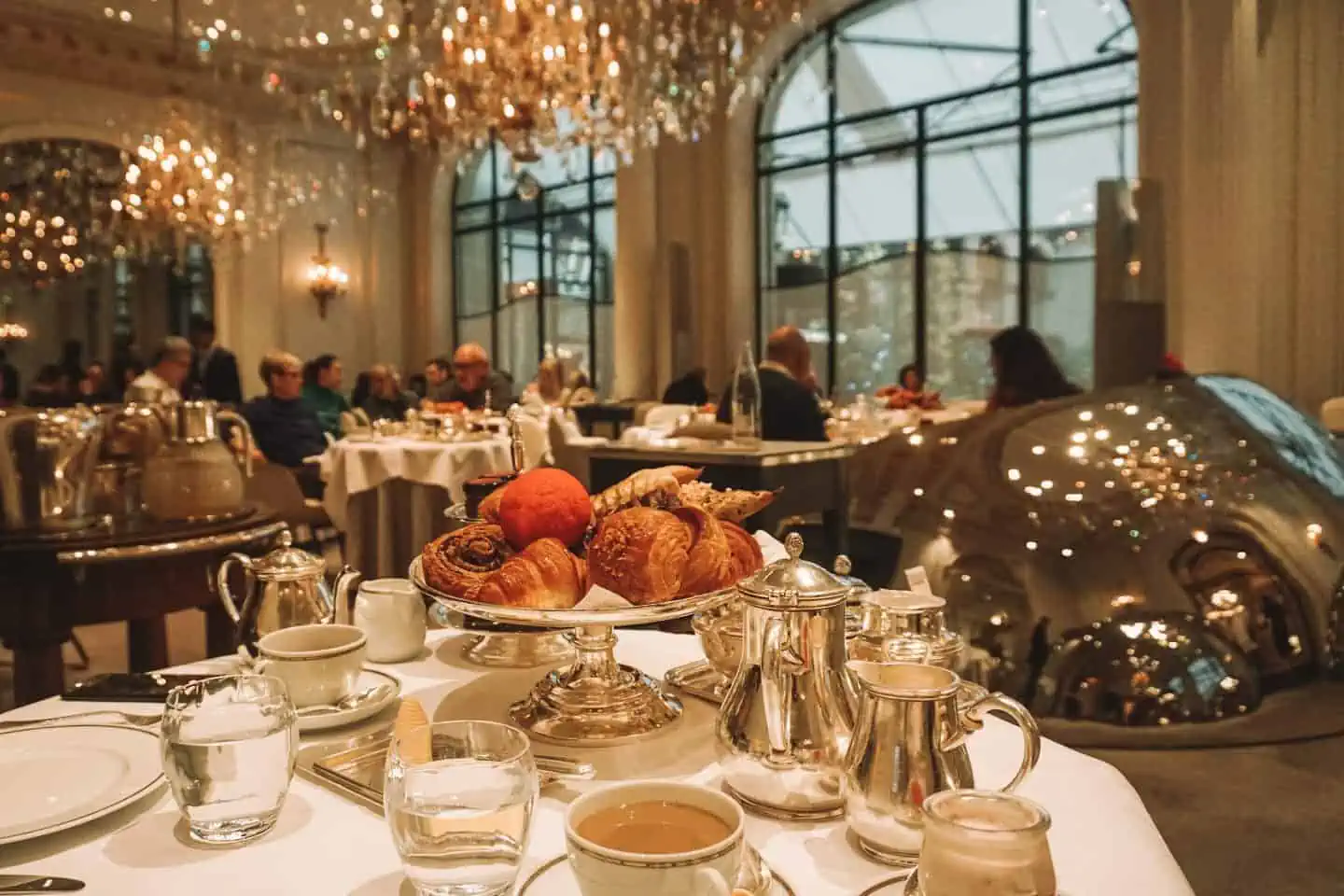 Enjoy freshly baked bread, exquisite pastry combos, freshly brewed coffee, and an assortment of jams. The room is surrounded by 10,000 Swarovski Crystals that will brighten your day! We have had many breakfasts and dinners in various restaurants, but Plaza Athenee exceeded our expectations.
After your fantastic breakfast, head out to the courtyard! Since we visited in December, it has been decorated with lights and looked dreamy!
Are you looking for more photo ideas at the Plaza Athene? Check out Most Instagrammable Spots at The Hôtel Plaza Athénée.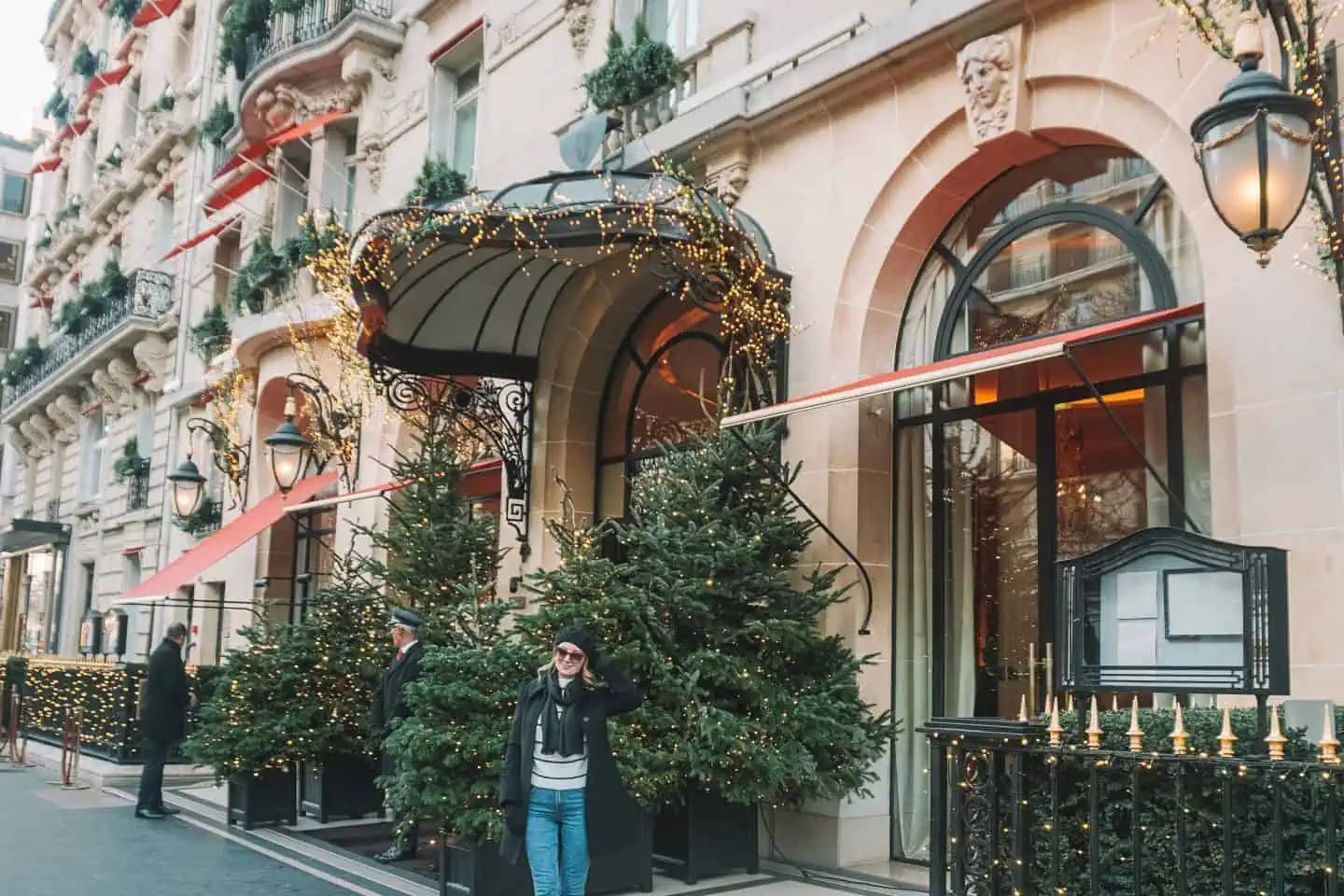 Sainte-Chapelle
After the 5-star breakfast experience, we went to explore the colorful Sainte-Chapelle. King Luis IX built breathtaking Gothic architecture in the 13th Century. Sainte-Chapelle is famous for its elegant sizeable stained glass windows.
The place is magical. Exploring does not take long, unlike other significant sights like Louvre or Palace Versailles. It is also located near Notre Dame Cathedral so you can visit both in one trip.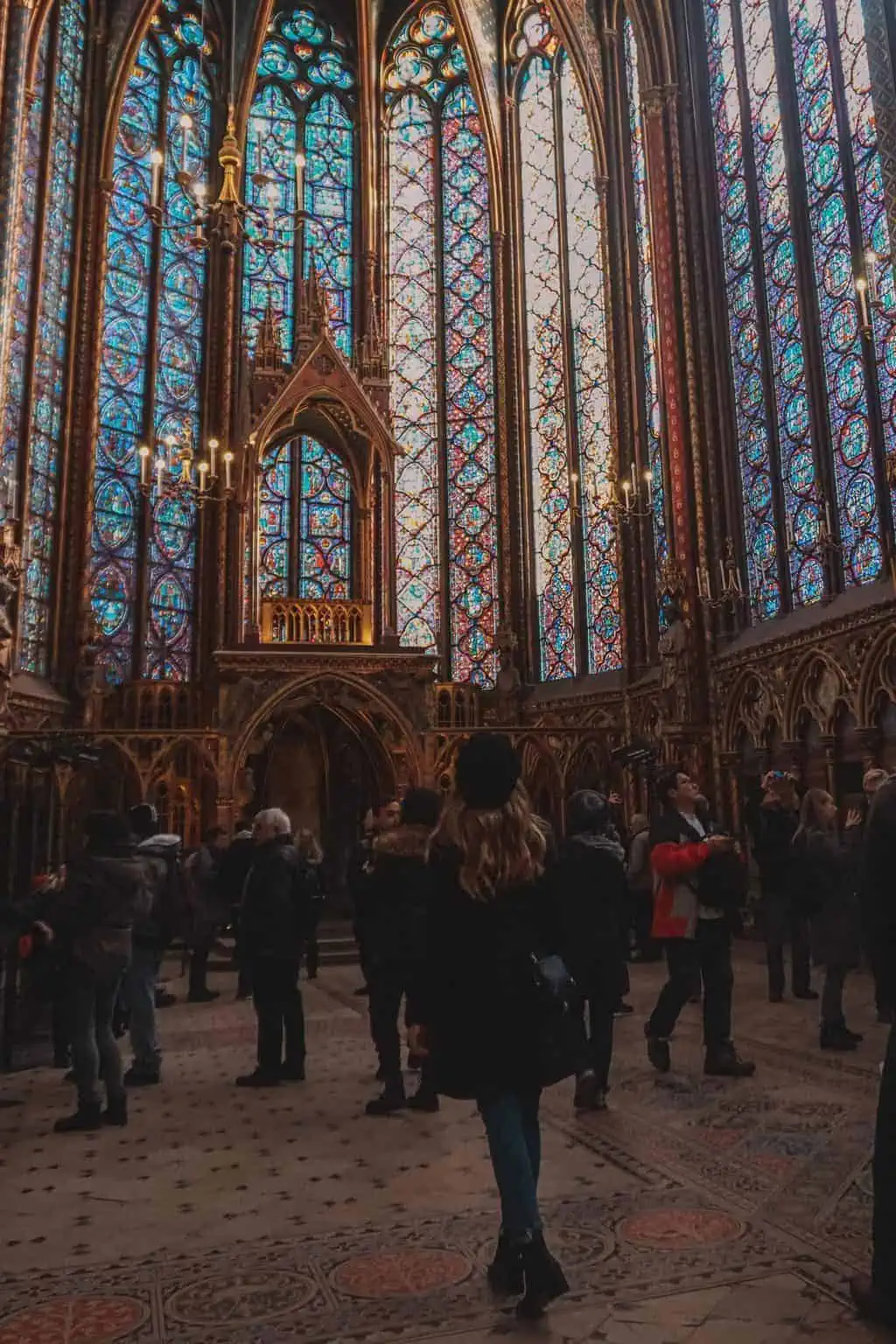 Notre-Dame Cathedral
You will get to Notre Dame Cathedral just six minutes from Sainte Chapelle.
The Cathedral is a widely recognized symbol of Paris and is 100% worth checking out. The Cathedral is famous for its enormous bells. You can also travel up the stairs and see a breathtaking view of Paris.
Visiting Hours:
Monday – Friday, 8:00 AM – 6:45 PM
Saturday & Sundays: 8:00 – 7:45 PM
Tip: If you want to avoid the crowd, visit on Tuesdays and Wednesdays when there is the least crowd. Avoid religious days or Sundays when there is a mass service.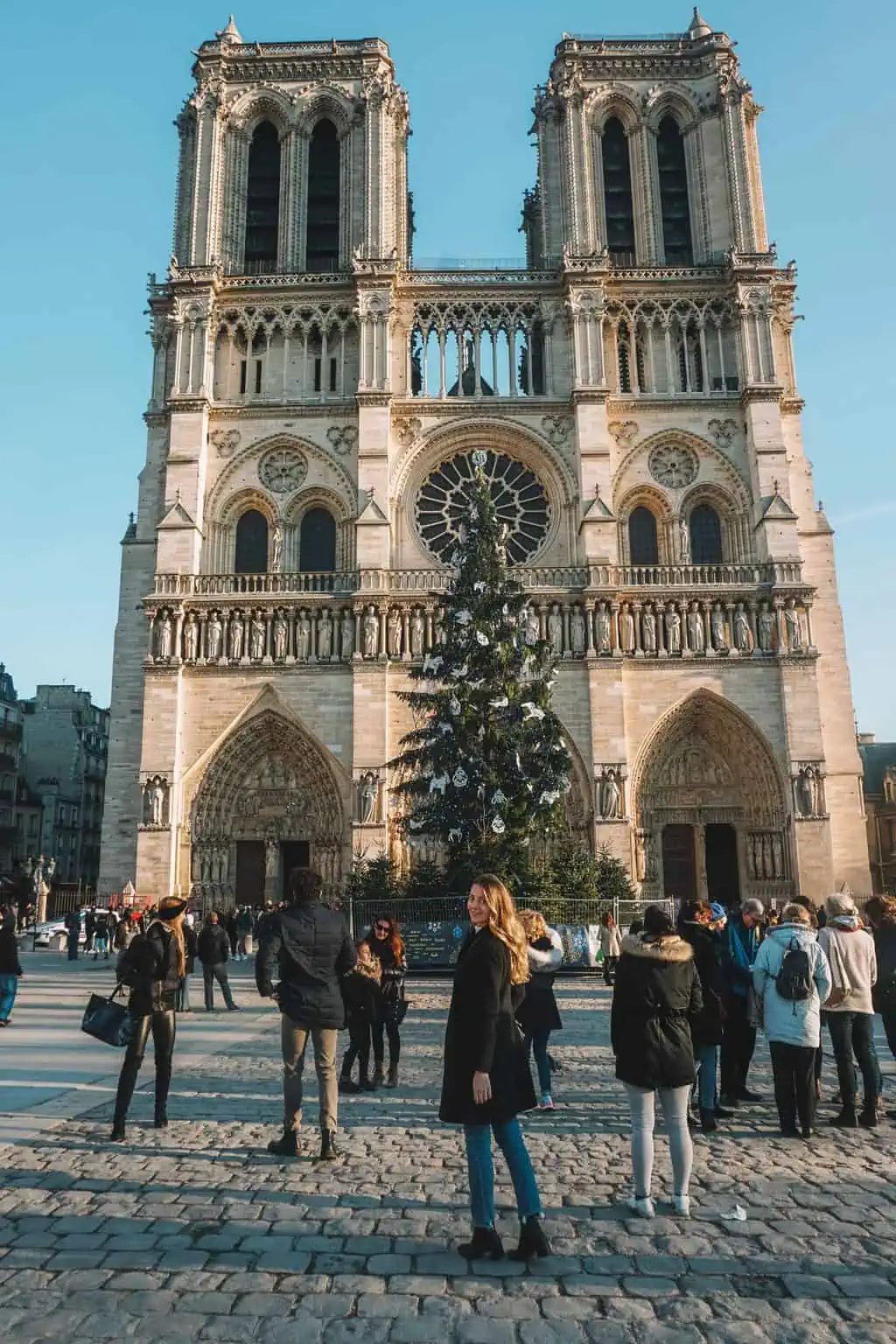 Paris Opera
We ended the day with a pre-planned trip to the Paris Opera, also known as Palais Garnier (Named after the architect).
A vast and gorgeous staircase welcomes you as you walk inside. It felt like we were in a castle. It is simply a stunning work of art and architecture.
Tip: If you decide to visit, as you should, you can book tickets online on their website. Do not be alarmed if tickets are sold out. Just get on their waitlist.
Arrive at least 30-40 minutes before the show starts. It is less crowded, and you will have a few minutes to walk around, take pictures and absorb the place.
Some paid tours generally cost as much (or more) as cheap tickets and take you around. You can still walk around the area with keys and watch a high-quality show.
As a bonus, a ballroom is decorated with breathtaking artwork and gorgeous chandeliers that you can easily see before a show (or during), so long as no event is booked.
Day 5 of Your Week in Paris. Attend Moulin Rouge
Slow down a little after exploring numerous sights and enjoy the fun activity on your day 5 in Paris.
The most fun way to spend an evening in Paris is to attend the "Moulin Rouge."
It was an enjoyable evening with delicious food, music, and a show. The costumes were the best! Make reservations ahead of time for dinner and show.
Day 6. Day Trip From Paris
The Versailles Palace
We dedicated one full day of our trip to visiting the Versailles Palace. It was a cold and windy day. We woke early and walked about 20 minutes to the nearest Metro Station. The walk would have been much faster if not for my extra slow walk that day.
We took the "RER C" line. We rode for about 40 minutes in a comfortable and partially empty train car and arrived in Versailles without any delays.
Visiting Versailles in winter will help you avoid most of the crowds. However, the famous "Gardens of Versailles" may not be as impressive as in summertime. The dancing fountains are turned off, and the place feels slightly less green.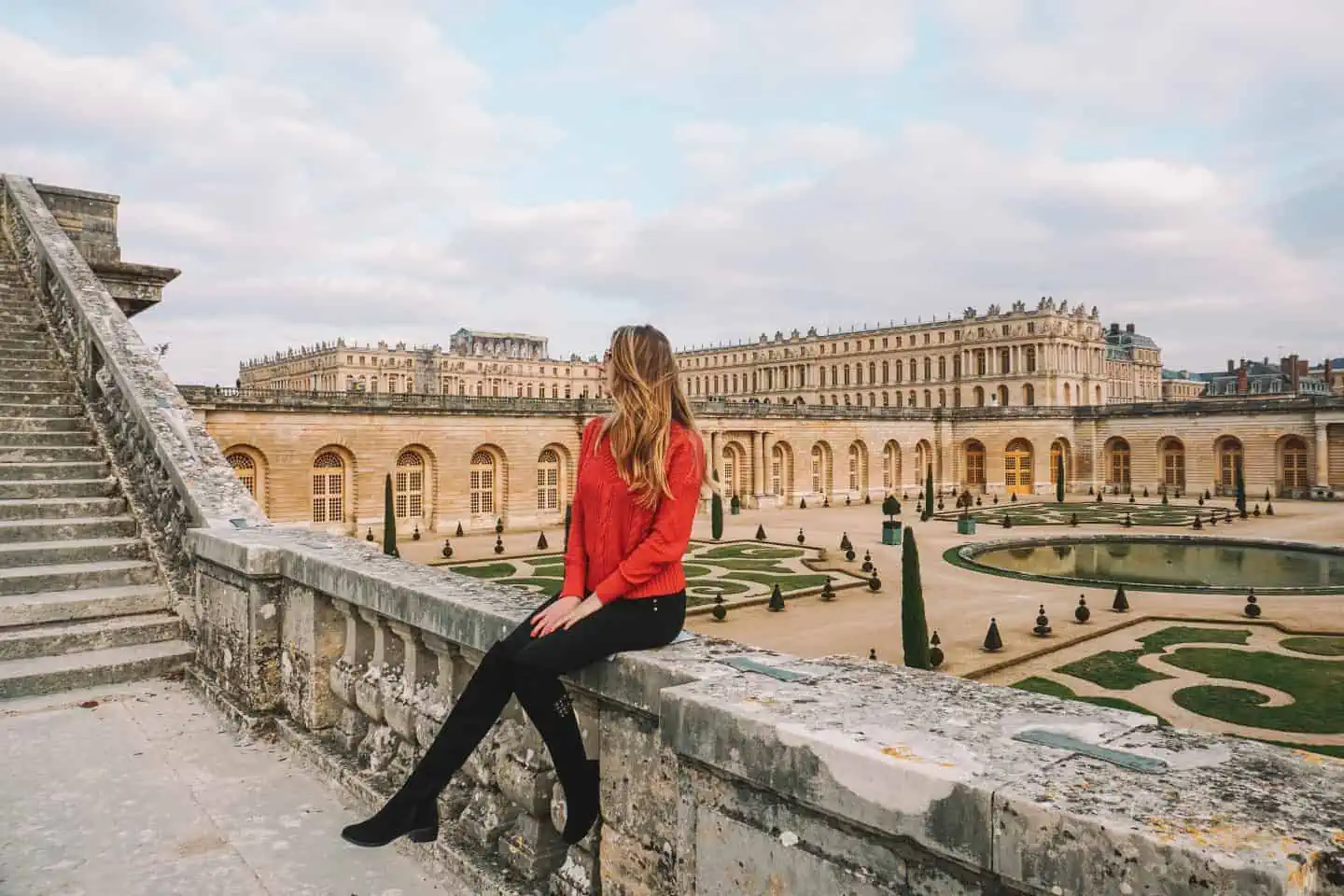 Little About Versailles
The Versailles Palace is enormous. King Luis XIV built it at the age of 23. He wanted his Palace to be the most beautiful in the world. I think it is safe to say that he succeeded. It is also worth noting that he was already living in the Louvre. Imagine feeling the Louvre is not big and pretty enough to impress your guests. It is a hard thing to process fully.
Once we made our way into the Palace, we were handed tour headphones and started to walk around from one room to another, from one bathroom to another. I stopped counting the rooms soon after our tour started.
We spent a few hours walking around inside and outside the Palace, taking in the grandness and greatness of this place.
After tiring ourselves out, we decided to get lunch. A few meal options exist in the Palace, including the already mentioned "Angelinas." Of course, we headed there. While the food was still delicious, it was not the same experience. We preferred the city location.
Disneyland Paris
While we did not visit Disneyland, this is another day trip idea from Paris. For more details, check out the fantastic post by Christina on how to plan your trip from Paris to Disneyland.
Day 7. Sacre Coeur and farewell dinner
Packed and prepared luggage for the next day's departure. Believe it or not, this trip felt so long compared to other trips. Maybe because we had to explore many sights or I was pregnant and lacked the usual energy, we quickly took a cab and visited the beautiful Sacre Coeur that afternoon. Paris streets have reminded me of my home city (Tbilisi, Georgia), especially this spot.
Before returning to the hotel to relax and get ready to leave, we checked in to one of the cafes I always wanted to visit: Carete. The food is so delicious and especially the desserts! Most cafes typically have an outdoor heater, so we chose to sit out and enjoy the Paris streets. If you want to eat in Paris, include this place on your bucket list.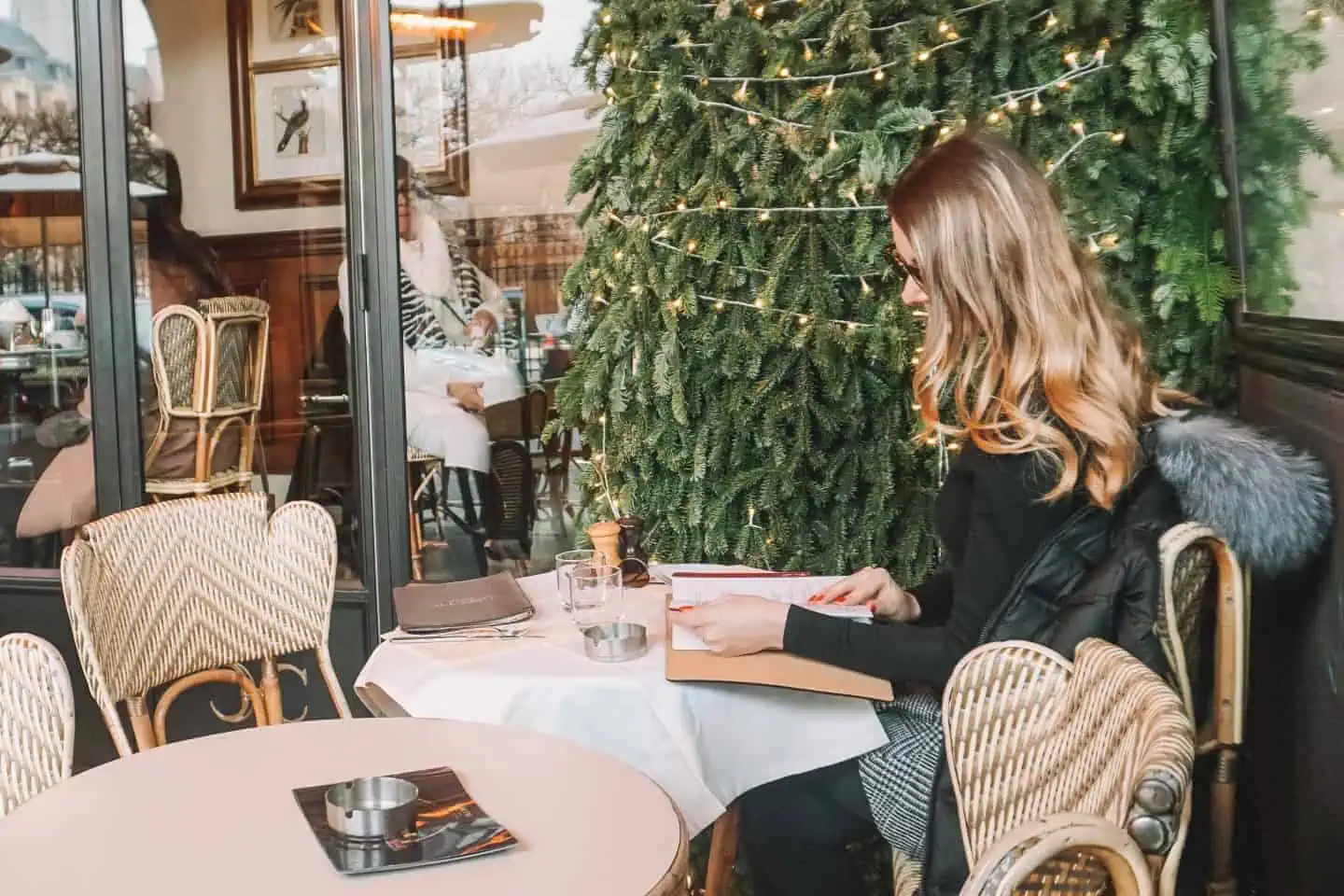 What to Pack for a Week in Paris
Slightly more upscale than super casual clothes with solid colors
Boots/Booties
Hats/handbags / other accessories
Umbrella
Power Adapter
Translator/Dictionary
How Much Does Paris Cost For a Week?
Price for a week in Paris will vary depanding on the season, the number of travelers, and the hotels. According to BudgetYourTrip, one traveler's average one-week mid-range travel budget is $1,320. And $2,640 for a couple.
You can use their calculator to calculate the approximate total cost for your trip.
Paris is one of the best cities in the world. I do not blame you if you want to get the most out of it, but to be more budget-friendly, look for affordable hotels or apartments, save on luxury restaurants, and walk as much as possible to avoid cabs in the city center!
Paris Christmas Markets
If you plan to visit Paris at the end of November or January, visit a Christmas market location. We only went to one nearby, but plenty of them could choose. The place we went to was decorated with a ton of pretty lights; it was filled with various local food and sweet carts, ice skating rings, and many things to buy, and it even had a pretty lovely Ferris wheel overlooking the city—an enjoyable way to spend an evening during the holiday season.
Are you excited to spend a week in Paris? What are your top things to do from this itinerary?