Bluebird Farm Alpacas in NJ: How to Plan the Most Unique and Fun Family Day Trip
Are you looking for a fun and unique day trip with kids in New Jersey? Check out Bluebird Farm Alpacas. This 15-acre farm offers the perfect opportunity to get up close and interact with some adorable alpacas.
At Bluebird Farm Alpacas, you can feed, walk, and pet these gentle and friendly animals. And if you would like to have an even more memorable experience, try yoga and picnic with alpacas around.
In this post, I am sharing how to plan your visit to BlueBird Farm Aplacas and what to expect during your visit.
Thanks for hosting my family, BlueBird Alpacas. All opinions about our experience at the farm are entirely my own.
Getting to Bluebird Farm Alpacas in New Jersey
By Car
Getting to Bluebird Farm Alpacas is easy. You have several options depending on your starting point and preferred mode of transportation.
The most convenient way to reach the farm is by car.
The Bluebird Farm Alpacas is located at 44 Willow Avenue in Peapack, NJ, about an hour's drive from New York City and Philadelphia.
By Public Transportation
If you don't have a car or prefer not to drive, you can still reach the farm by public transportation.
The closest train station is the Gladstone Station on the NJ Transit Morris & Essex line. From there, you can take a taxi or Uber/Lyft to the farm, which is about a 10-minute ride.
Alternatively, you can take a bus from New York City to Peapack-Gladstone and walk or taxi to the farm.
Hours of Operation
Bluebird Farm Alpacas is open to the public on Saturdays and Sundays from 10:00 a.m. to 4:00 p.m.
In addition, the farm also accommodates any private events on weekdays.
It is essential to know that visiting the Bluebird Farm Alpacas farm is by reservation only.
You'll need to contact the farm beforehand to schedule your visit. You can do this by visiting their website at www.bluebirdfarmalpacas.com.
When you make your reservation, specify the date and time you want to visit. The farm is popular among families and groups, so booking your visit in advance is a good idea to ensure availability.
In addition, keep in mind to arrive on time as your scheduled time slot to ensure you do not miss any parts of the experience.
Bluebird Farm Alpacas Tickets
Here is the breakdown of the prices for the experience you can choose from at Bluebird Farm Alpacas:
Farm Tour – $14
Alpaca Walking – $24
Accompany an Alpaca Walker – $18
Private Tour – $220+
Private Event – $680 + ( For first 25 guests)
Note: Kids must be eight or older to walk their own Alpacas. Otherwise, they can accompany adults.
What to Expect During Bluebird Alpaca Farm Visit
Activities at the Farm
When you visit Bluebird Alpaca Farm, you can expect a fun and unique experience for the whole family. Here are a few things to expect when you visit:
Introduction and Meeting With the Alpacas
One of the main attractions at Bluebird Farm Alpacas is the opportunity to meet and interact with the Alpacas.
These gentle animals are known for their soft and fluffy fleece, used to make various products such as sweaters, hats, and scarves. You can get up close with the alpacas, pet them, and even take pictures.
When we arrived, the farm staff introduced our group to the Alpacas, feeding and interacting etiquette, and some fun facts about alpacas.
Feeding the Alpacas
Next, we all started to feed Alpacas their breakfast. You can get food pellets from the farm store and feed them to the alpacas.
The alpacas are friendly and gentle, so you don't have to worry about getting nipped or bitten.
This is why I was comfortable with my 4-year-old getting so close. But this does not mean you should leave kids unattended. Always stay next to them during the entire experience and follow the safety rules.
Walking Tour
After a few minutes of interacting and feeding, we were assigned to leash our alpacas and walk the alpacas inside the farm territory. The staff led and guided all of us through the trail, which was not long but not too short either.
We had a few opportunities to stop by and take pictures with adorable animals who did not mind selfies.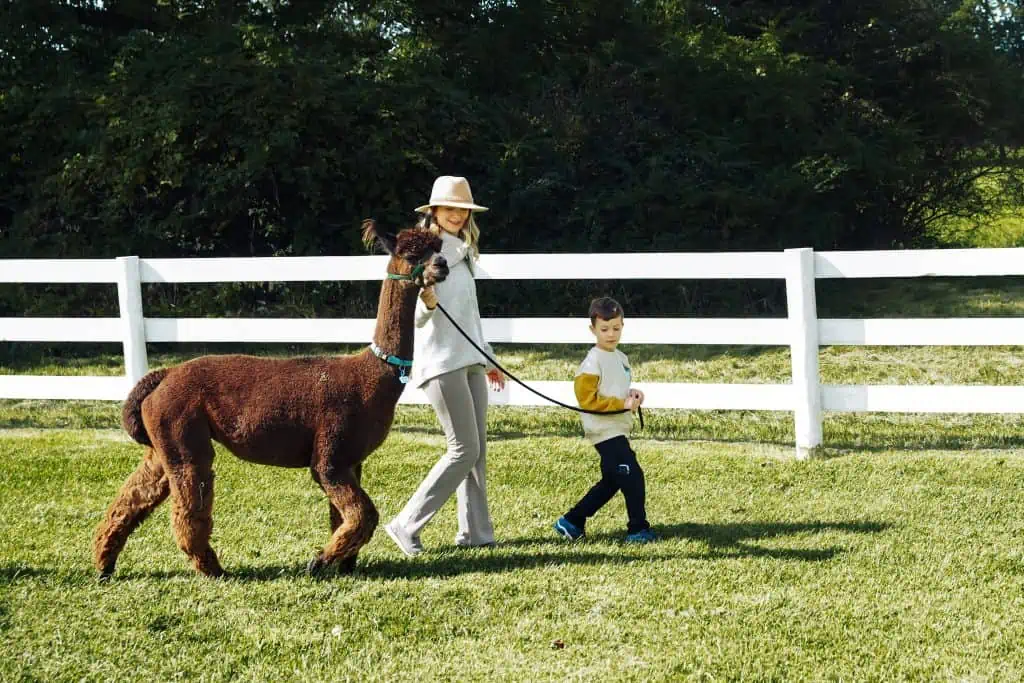 Farm Tours
If you want to learn more about the alpacas and the farm, you can take a guided tour of the property. The times are available on weekends and with reservations.
During this time, you will learn about the farm's history, the care and feeding of the alpacas, and the process of making alpaca products.
Yoga and Picnic with Alpacas
If you want more unique experiences, check out yoga and picnic with Alpacas at Bluebird Farm. Check out schedules and make sure to reserve your spots in advance.
Our alpaca friends came over to say hi to us while we enjoyed our snacks at the farm, and to my surprise, they did not reach or show any interest in any food at the table—the most well-behaved animals.
Things to Note
The farm only has an outdoor portable toilet available for visitors. No baby changing station.
Dogs are not allowed at the Farm.
Do not be late for your Tour. You will not be accommodated, so be on time and respect everyone's time there.
Special Events
Bluebird Farm Alpacas is also great for hosting group events and celebrations.
We checked out this beautiful, charming event place with a kitchen, bridal room, and bathroom: pretty setup and a stunning view of the farm.
For availabilities and reservations, contact the farm directly.
Farm Store
Before you leave, stop by the farm store to check out the alpaca products available. You can find various items made from alpaca fleece, including sweaters, hats, scarves, and gloves.
The farm store also sells yarn and roving for those who want to try knitting or crocheting with alpaca fiber.
Health and Safety Guidelines
Following specific health and safety guidelines is essential to ensure a safe and enjoyable experience during your visit.
Animal Safety
While alpacas are generally gentle and friendly animals, it is essential to follow specific guidelines to ensure their safety and your own. Some of these guidelines include:
Not feeding the alpacas any food that is not provided by the farm staff
Not feeding baby alpacas if they are nursing.
Not chasing or harassing the alpacas.
Not touching the alpacas without permission from the farm staff
Keeping a safe distance from the alpacas and not entering their pens or enclosures
Personal Safety
To ensure your safety during your visit to Bluebird Farm Alpacas, it is essential to follow these guidelines:
Wear comfortable and weather-appropriate clothing and footwear.
Follow all posted signs and instructions from farm staff.
Keep a close eye on children and do not leave them unattended.
By following these health and safety guidelines, you can have a fun and safe experience visiting Bluebird Farm Alpacas.
What to Bring
Have some cash handy to purchase something at the gift shop.
Camera or smartphone to document the cute and unique experience.
Picnic if you want to stay longer at the farm and enjoy lunch there.
Things to do Near Bluebird Farm Alpacas
The entire experience at the farm will not take you long. Expect about 60 minutes or so for your trip here. Unless you stay over for a picnic and enjoy the farm's atmosphere.
I highly recommend planning something else for a day to make the best of your family day trip. You can plan to visit a few places nearby, such as Alstede Farms, where you can pick your seasonal food and enjoy many family activities. This is hands down our favorite farm to visit during the Autumn to cross off our Fall activities for families.
Some other options would be Duke Farms, Rutger's Gardens, Natirar Park, and Burnt Mills Cyder.
Dining Options
If you plan a day trip to Blue Bird Alpaca Farm, you can also plan to have some dining options nearby. Luckily, there are plenty of great restaurants in the area.
Italian Cuisine
Your great option for Italian cuisine is Cafe Azzurro. This restaurant is just a few miles from Blue Bird Alpaca Farm and offers classic Italian dishes like pasta and pizza. They also have a great selection of wine to choose from.
American Cuisine
If you're in the mood for great American Cuisine, you'll want to check out Ninety Acres at Natirar. This restaurant is just one mile from Blue Bird Alpaca Farm and offers a farm-to-table dining experience.
The menu changes seasonally, so you'll find something new and exciting each time you visit. Reservations are recommended.
Another option for American dining option would be The Gladstone Tavern.
This restaurant is located just a few miles from Blue Bird Alpaca Farm and offers a cozy atmosphere and a menu featuring classic American dishes like burgers and steak. They also have a great selection of craft beer to choose from.
Casual Dining
If you're looking for something more casual, you might want to check out the Gladstone Market, where you can find pizza and sandwiches. and The
Another good option a bit further is the Chester Diner. This restaurant is just a few miles from Blue Bird Alpaca Farm and offers classic diner fare like pancakes and omelets. They also have a great selection of sandwiches and burgers.
Final Thoughts
We loved visiting Bluebird Alpaca Farm and experiencing getting close to animals without the gates. This is a unique experience for every age. I would have loved it if Farm had more things to do for guests after the alpaca experience, but the picnic was a great addition.
Whether you're looking for a fun family day trip or a unique date idea, this farm has something for everyone.
Don't miss your chance to meet these gentle and adorable creatures and learn more about the alpaca farming industry.
Have you visited any place like Blue Bird Alpacas Farm? Drop your other recommendations, too!
If you loved discovering Blue Bird Alpaca Farm, Check out more family Day Trip Ideas, such as Pick your Tulips in NJ or Visiting Benmarl Winery in NY.